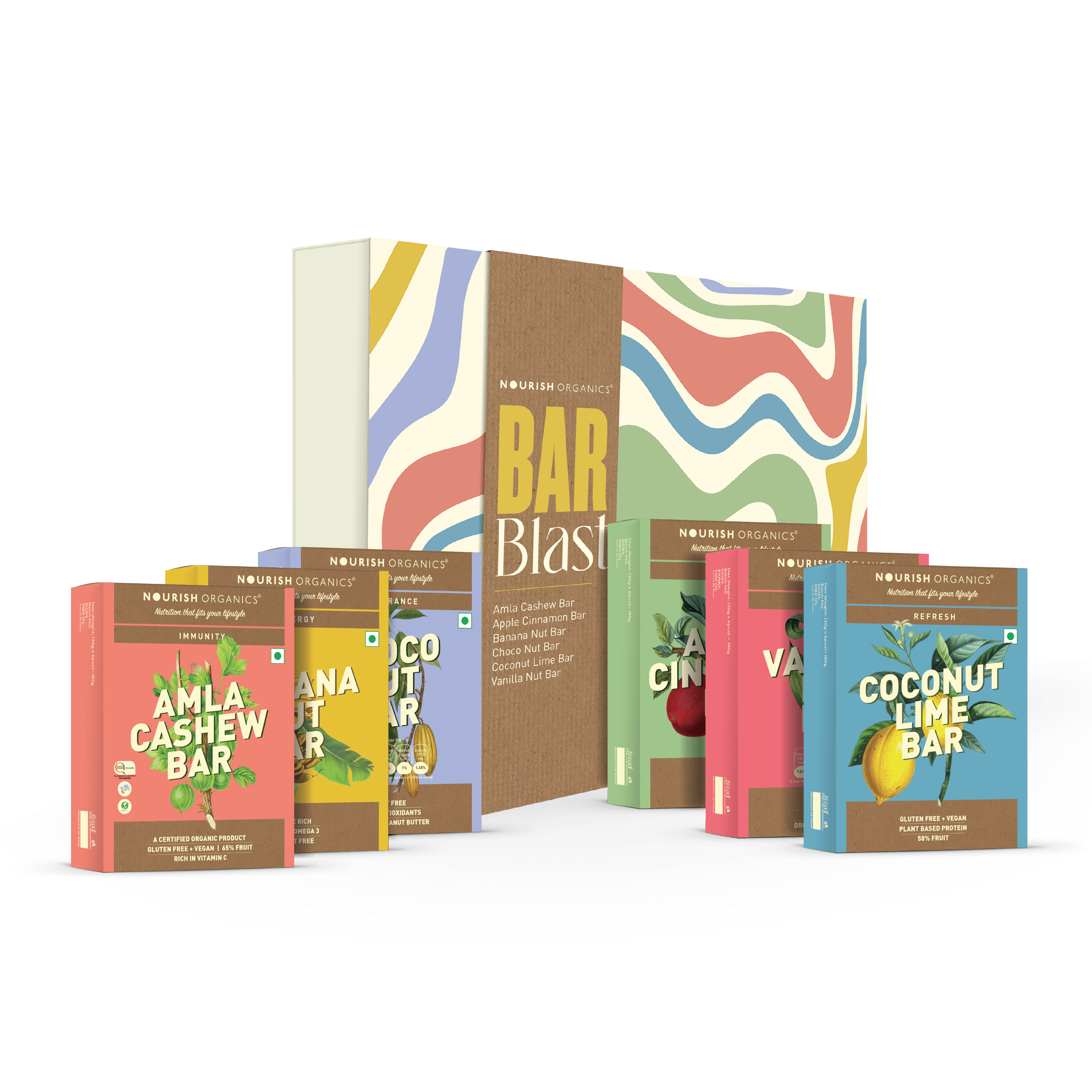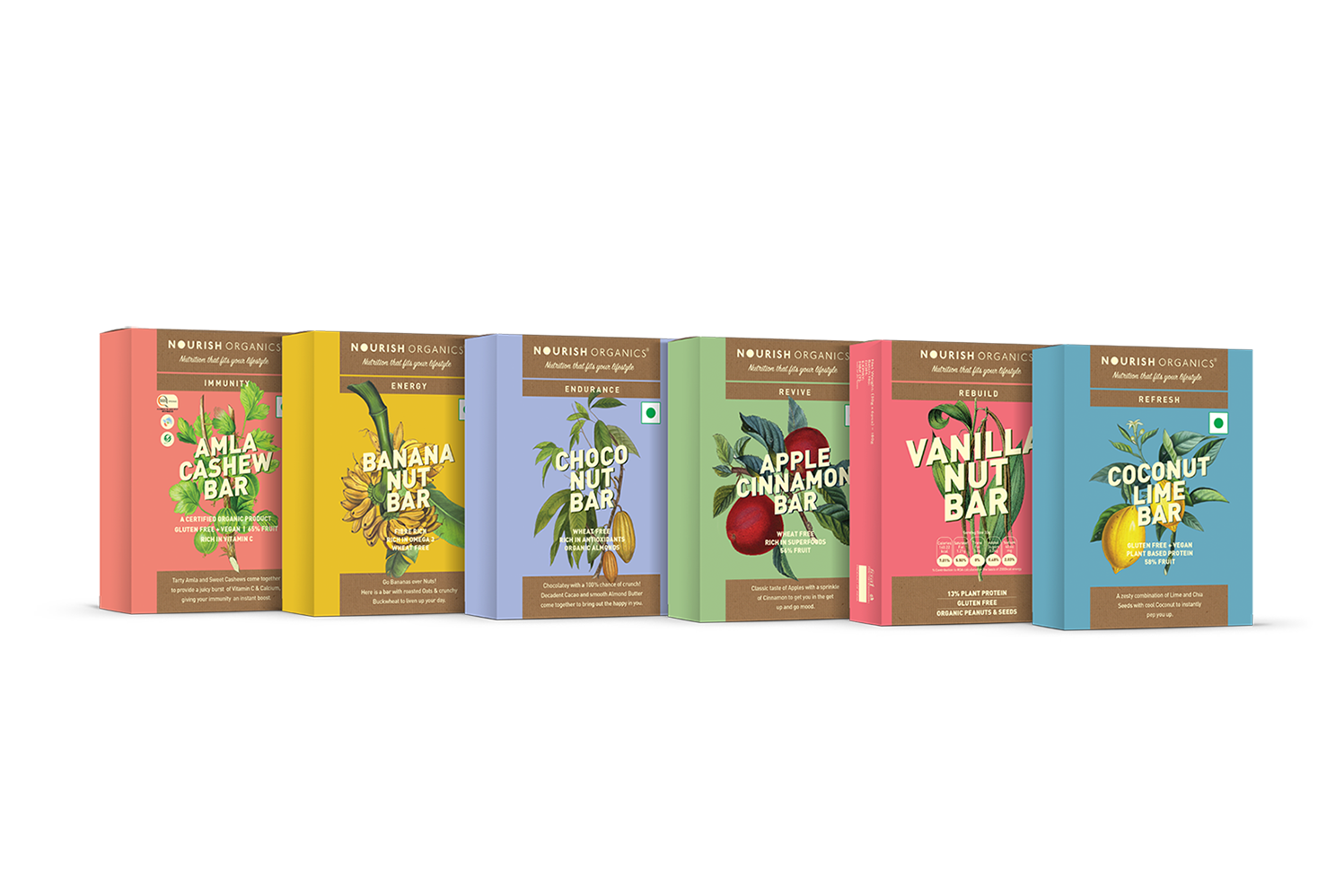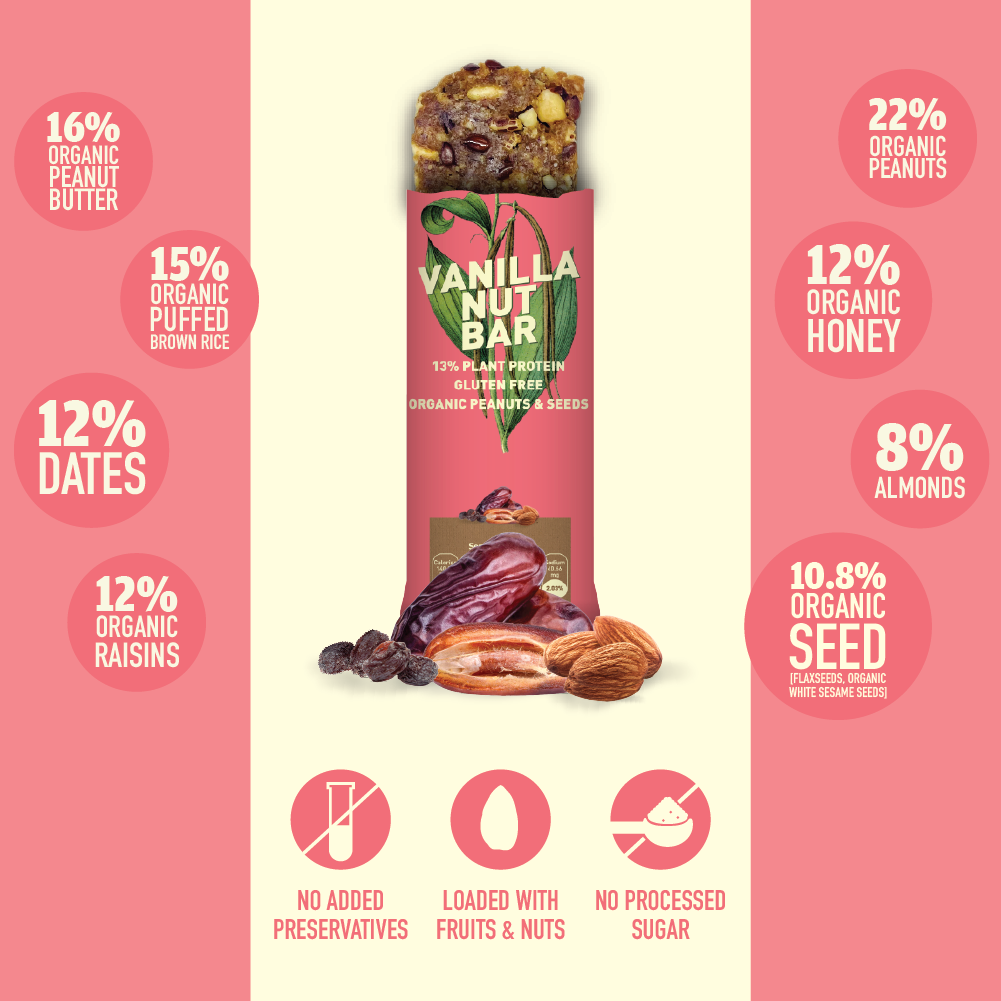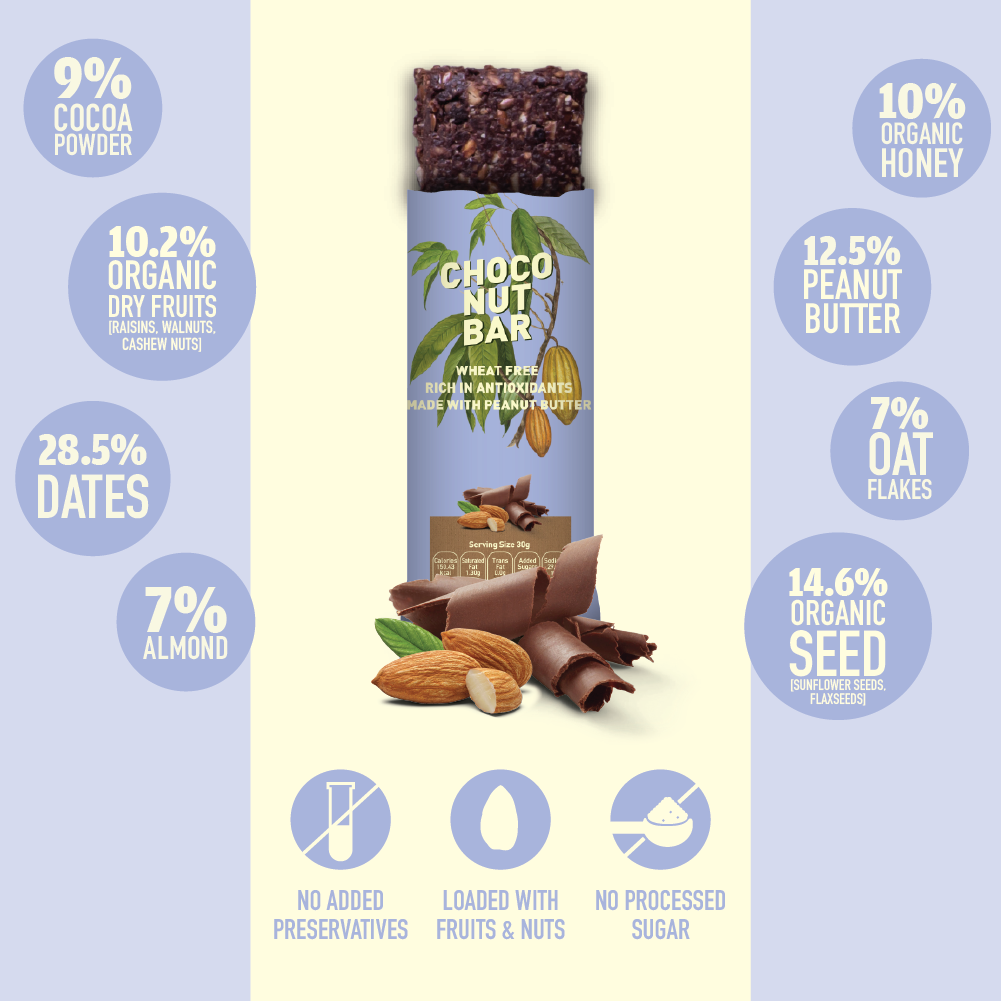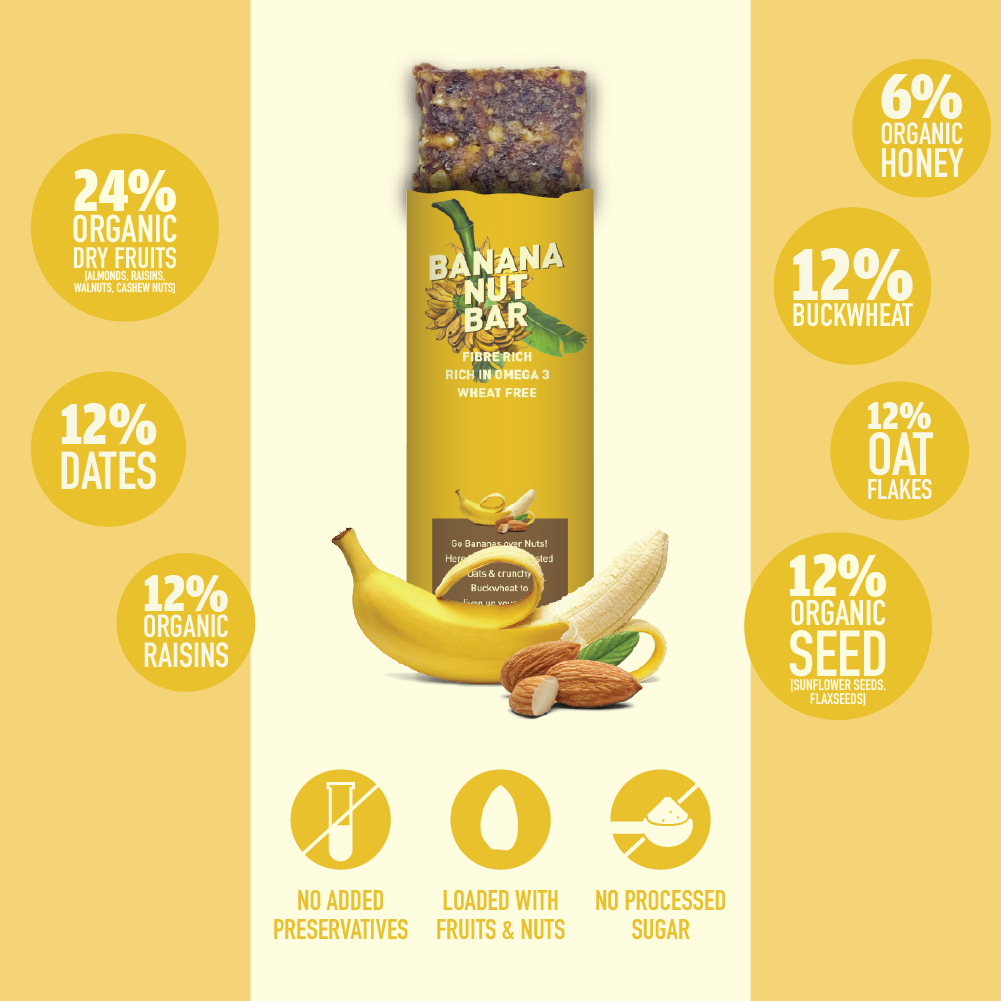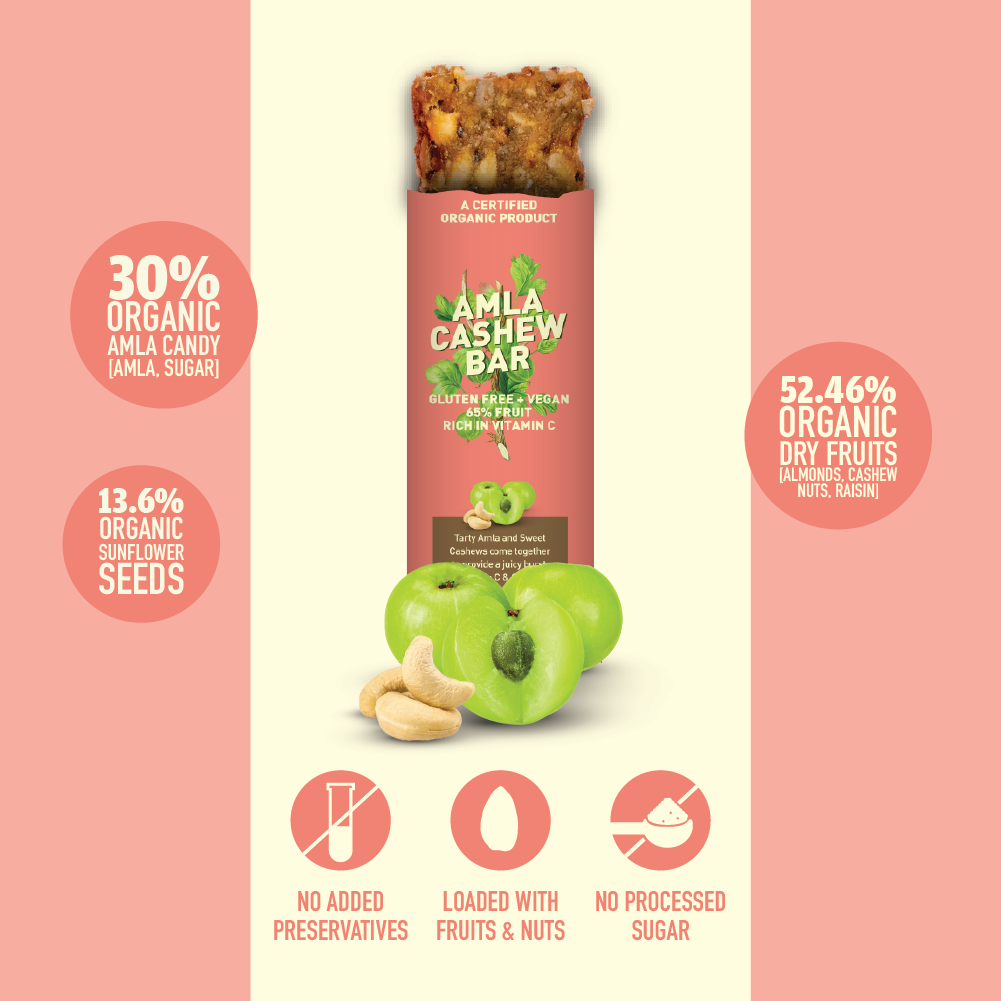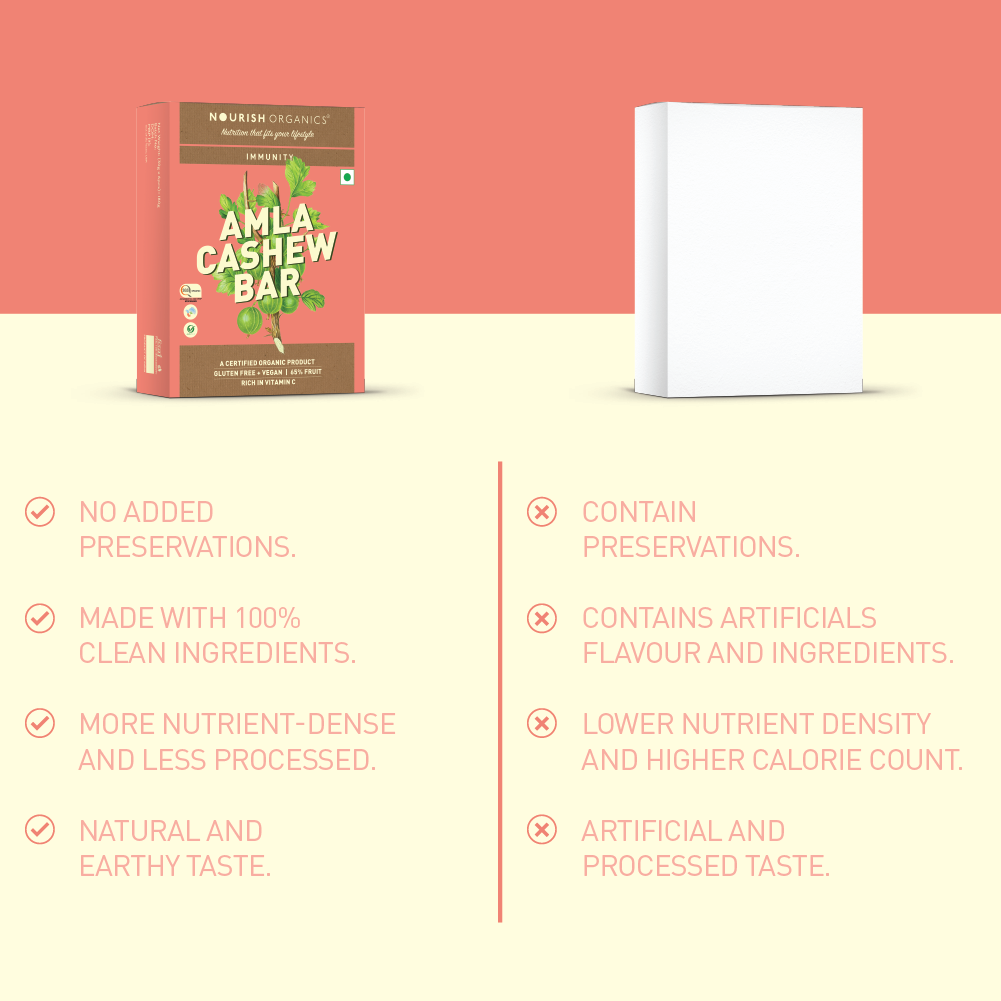 Gifting Pack - Bar Blast - Pack of 6
Net Weight: 1080g
With the perfect fusion of fruits and nuts, this is definitely an explosion your taste buds will love! An ideal and healthful present to give to relatives, co-workers, and employees during festival season.
Our Bar Blast Hamper is packed with 6 delicious and highly nutritious flavors --
1) Apple Cinnamon
2) Amla Cashew
3) Banana Nut
4) Choco Nut
5) Coconut Lime, and
6) Vanilla Nut 
The Apple Cinnamon Bar evokes the nostalgia of fresh-baked apple pie, with delicious dried apples and warm notes of cinnamon.
The Amla Cashew Bar is a delicious powerhouse of vitamin C and antioxidants. This tart-dried fruit is combined with raisins, cashews, and almonds into a sweet & healthy treat.
The Banana Nut Bar is a toothsome blend of oats, bananas, dates, and buckwheat - naturally sweetened with honey - these bars are filled with fibre and antioxidants.
The Choco Nut Bar is embellished with cacao nibs to add a touch of chocolate indulgence to dates, whole oats and crunchy almonds and sunflower seeds.
The Coconut Lime Bar is a mix of dates blended with coconut, cashews, and a hint of lemon.
Our Vanilla Nut Bar is a fusion of almonds, brown rice, raisins, and dates with a dusting of vanilla to give it a hard-to-resist flavor.
Highlights
WHEAT FREE

ORGANIC INGREDIENTS

Zero
Trans Fat
Ingredients
Amla Bar: Organic amla candy (37%), Organic raisin (28%), Organic cashew nuts (16%), Organic Almonds (14%), organic honey (5%)
Apple Oats Bar: Dates (28%), Organic raisins (16%), Dehydrated apples (12%), Oats (8%), Organic sunflower seeds (8%), Organic Almonds (7.5%), Organic cashew nuts(7.5%), Organic Honey (6.5%), Buckwheat & Organic flaxseed (2%), Cinnamon and Lemon juice
Vanilla Nut Bar: Organic almond (28%), Organic Honey (16%), Organic puffed brown rice (12%), Organic raisin (12%), Dates (12%), soya flour (7%), Organic brown sugar (4%), vanilla, Organic flaxseeds (3%), Organic sesame seed (2%)
Lime Chia Bar: Dates (58%), Desiccated coconut powder (17.5%), Organic Almonds (12%), Organic cashew nuts (10%), Lemon juice (1.5%), Chia seeds (0.5%), and citric acid
Choco Oats Bar: Dates (30%), Oats (12%), Organic cocoa nibs (10%), Organic sunflower seeds (10%), Organic raisin (9%), Organic Honey (9%), Organic flaxseed (5%), Organic Almonds (5%), Organic Walnuts (4%), Organic cashew nut (3%), Cocoa powder
Banana Oats Bar: Oats (15%), Banana (12%), Dates (12%), Buckwheat (10%), Organic sunflower seeds (9%), Organic Almonds (8%), Organic Walnuts (8%), Organic raisin (8%), Organic Honey (8%), Organic flaxseed (5%) & Cashew nut (5%)
Nutritional Info
| | | | | | | |
| --- | --- | --- | --- | --- | --- | --- |
| |  Amla Bar |  Apple Oats Bar |  Banana Oats Bar |  Choco Oats Bar |  Lime Chia Bar |  Vanilla Nut Bar |
|  CALORIES (kcal) |  401 |  417 |  436 |  443 |  437 |  450 |
|  TOTAL CARB (g) |  78 |  66 |  57 |  62 |  51 |  56 |
|  TOTAL SUGAR (g) |  22 |  43 |  25 |  38 |  42 |  32 |
|  DIETARY FIBRE (g) |  18 |  8 |  5 |  8 |  4 |  7 |
|  PROTEIN (g) |  5 |  9 |  13 |  9 |  18 |  14 |
|  TOTAL FAT (g) |  7 |  13 |  17 |  18 |  18 |  19 |
|  TRANS FAT (g) |  0 |  0 |  0 |  0 |  0 |  0 |
|  MUFA (g) |  5 |  7 |  7 |  7 |  5 |  8 |
|  PUFA (g) |  0 |  4 |  8 |  6 |  1 |  5 |
|  CHOLESTEROL (mg) |  0 |  0 |  0 |  0 |  0 |  0 |
|  SATURATED FAT (g) |  2 |  2 |  2 |  4 |  11 |  6 |
|  SODIUM (mg) |  0 |  20 |  10 |  6 |  16 |  7 |