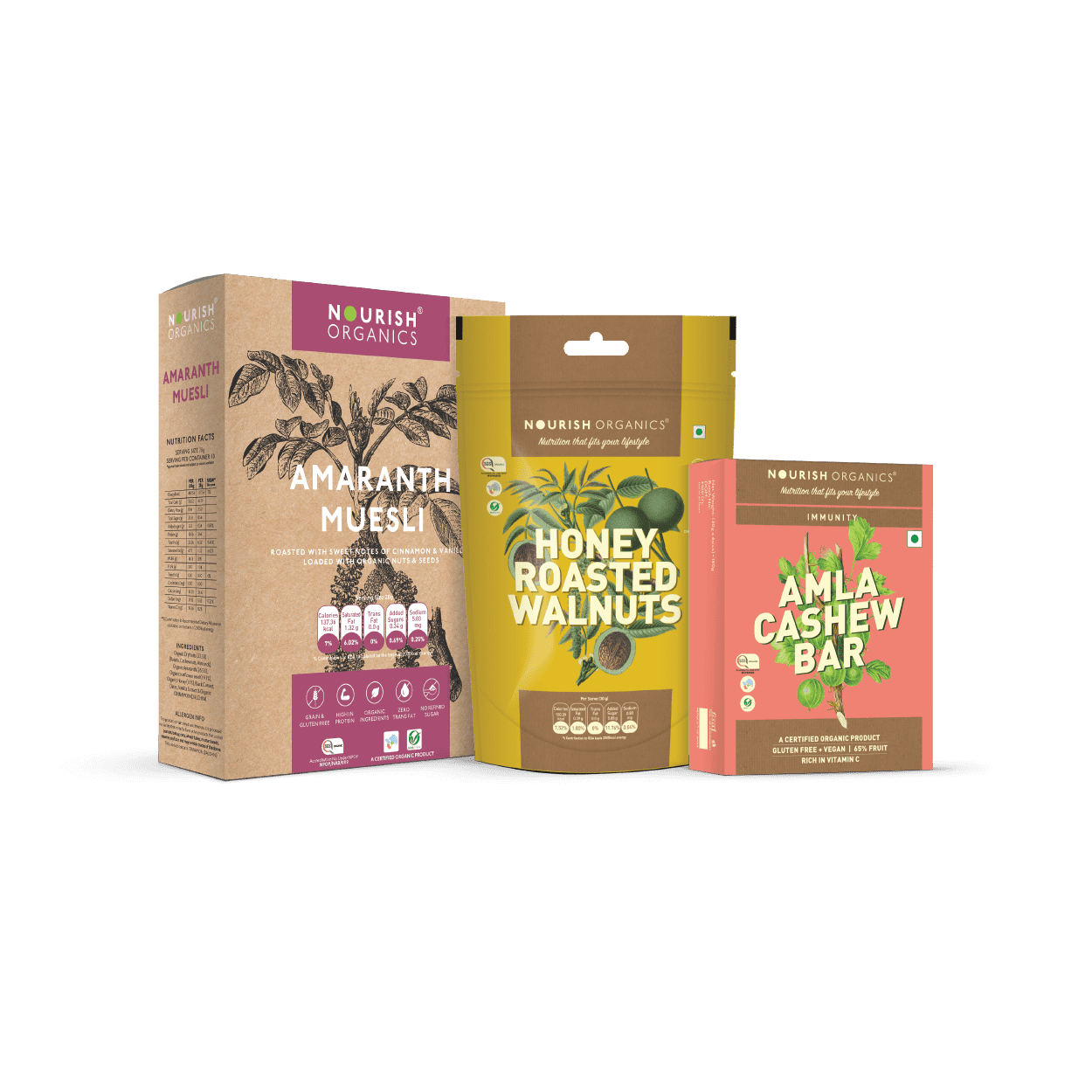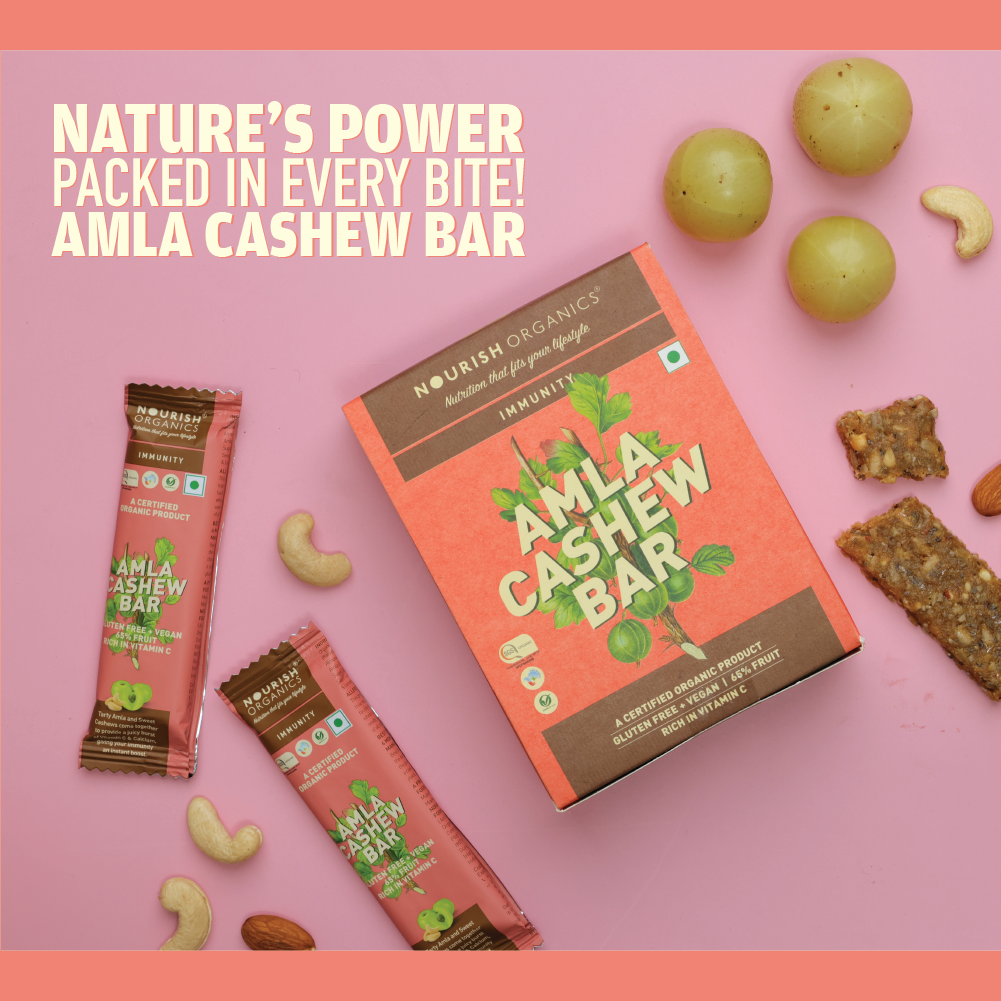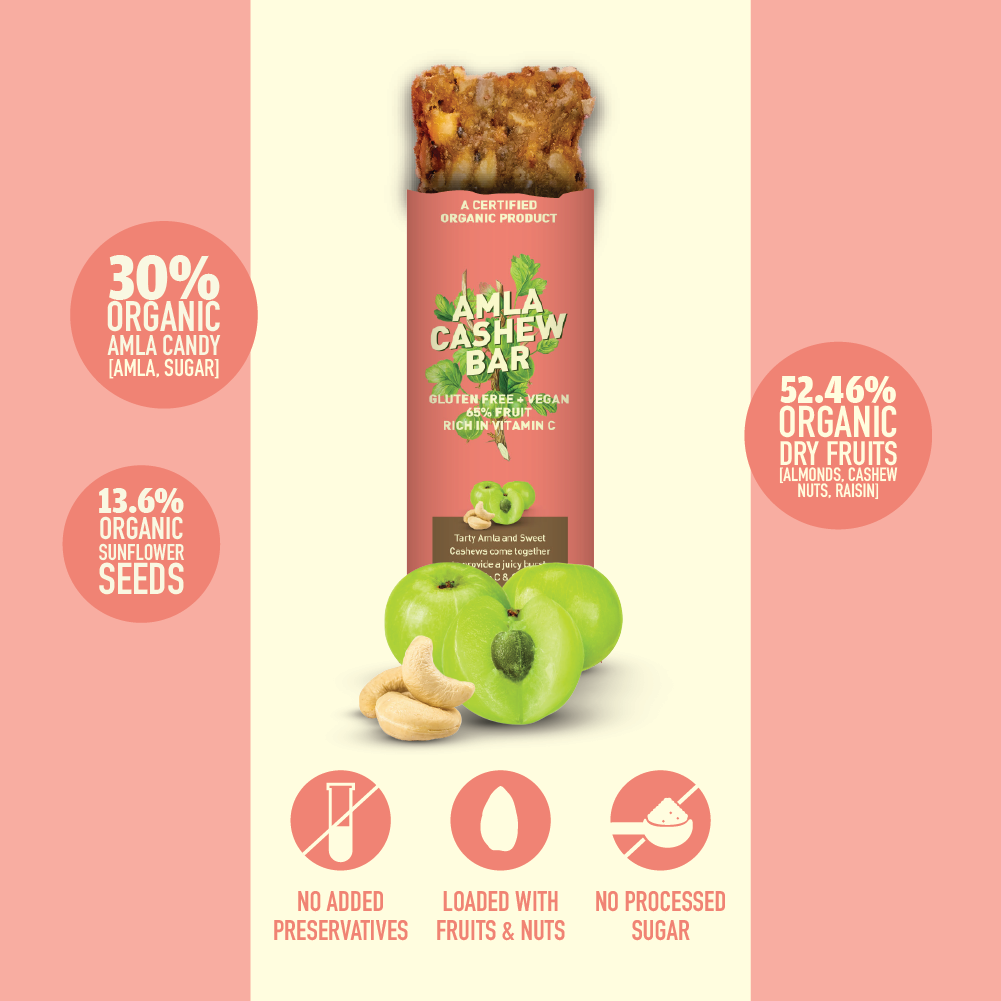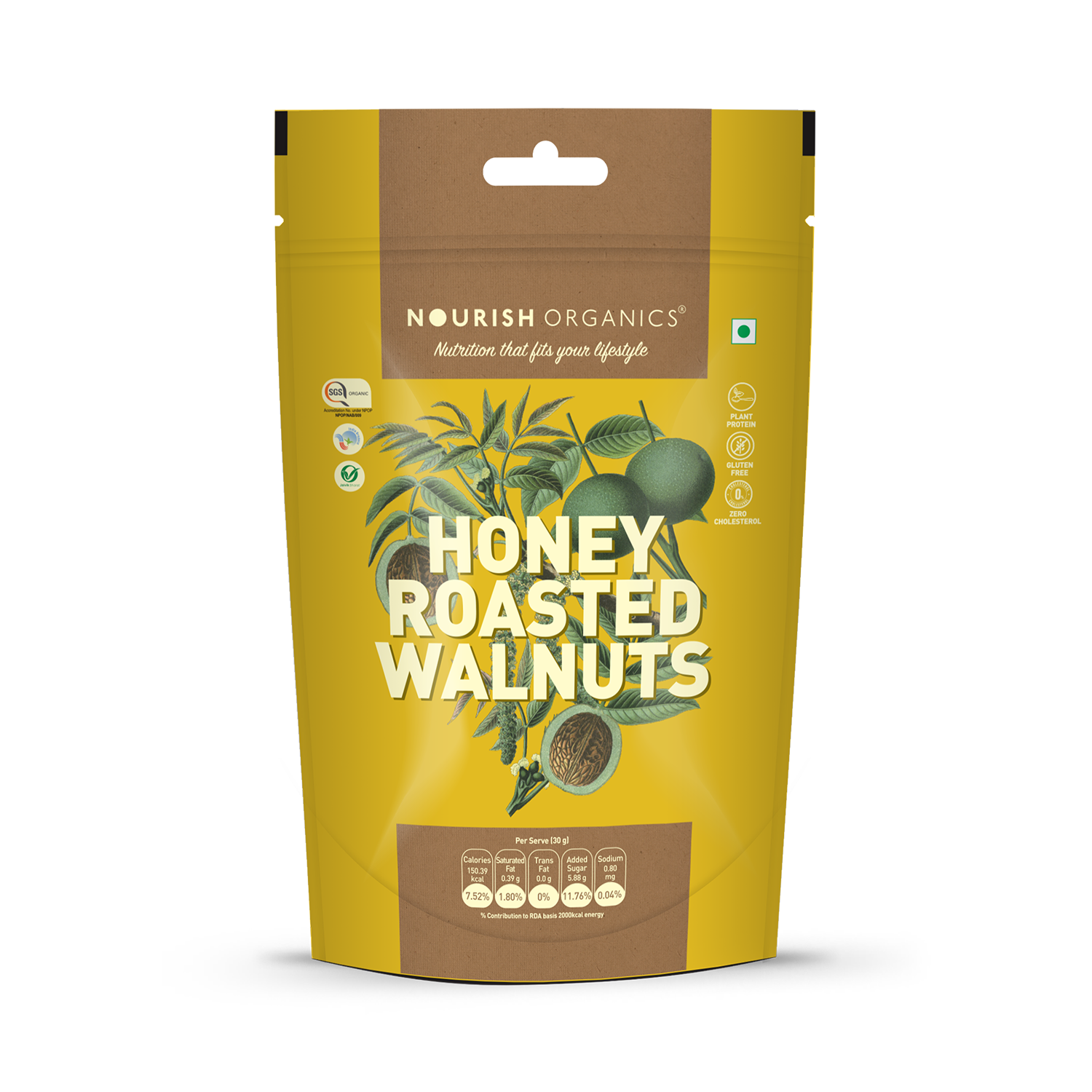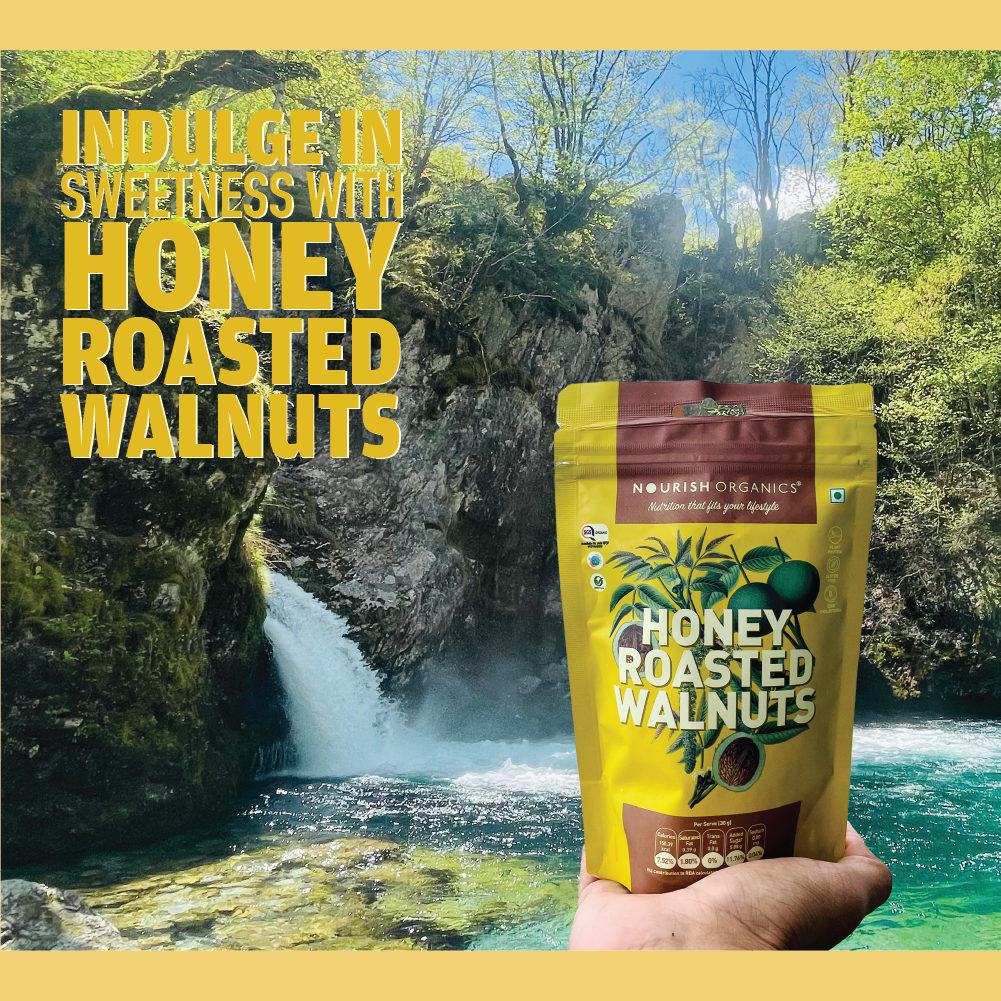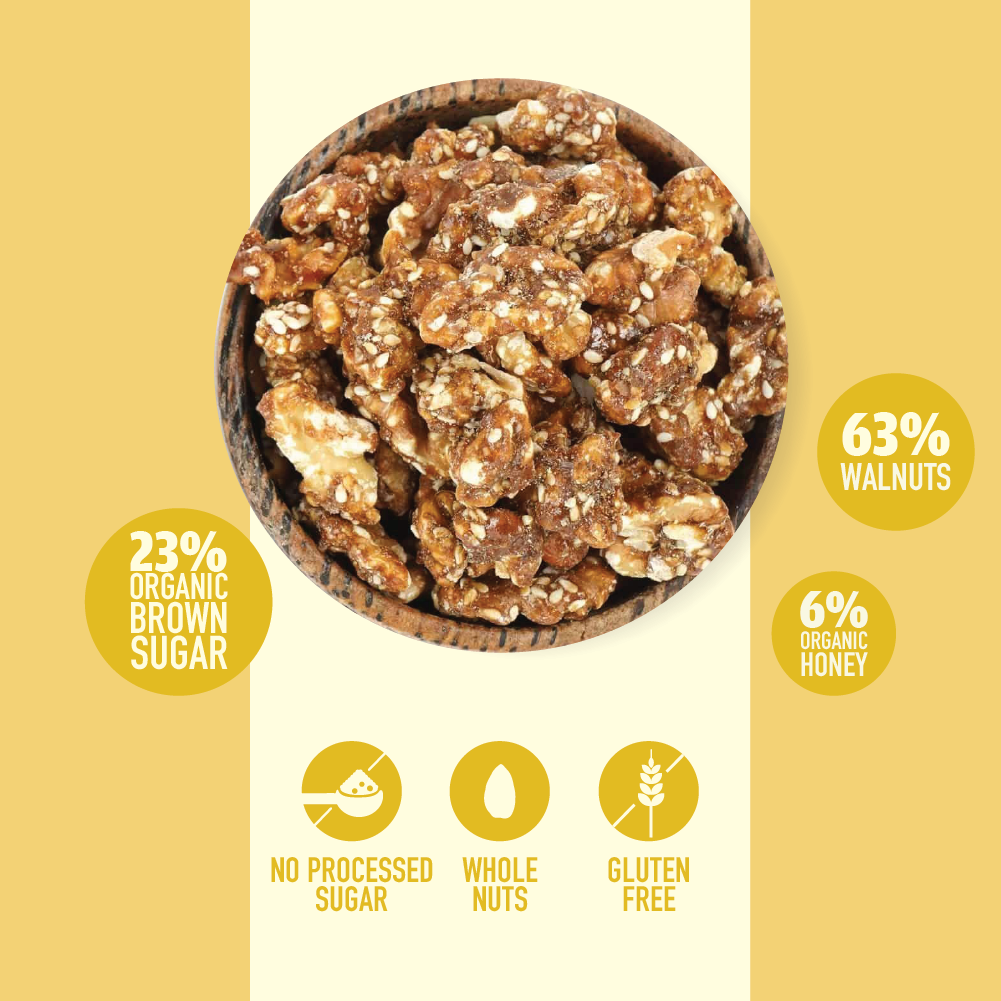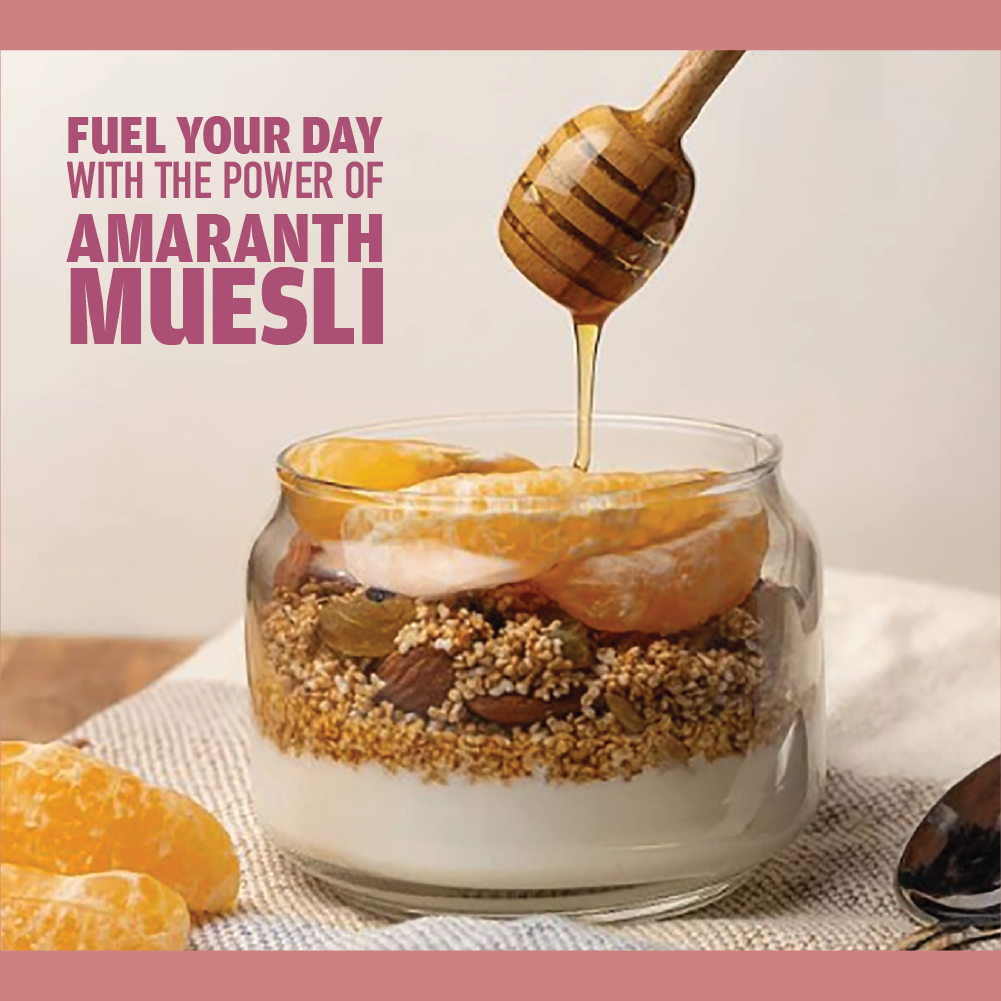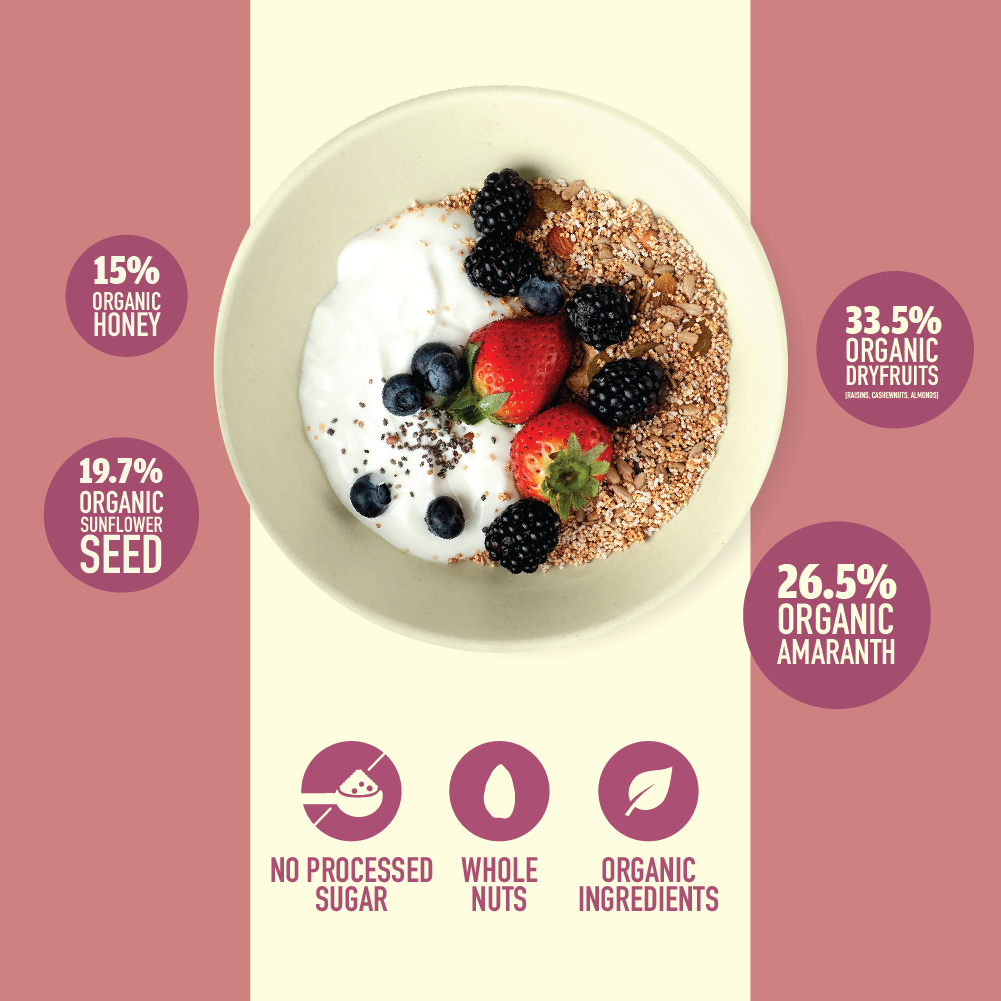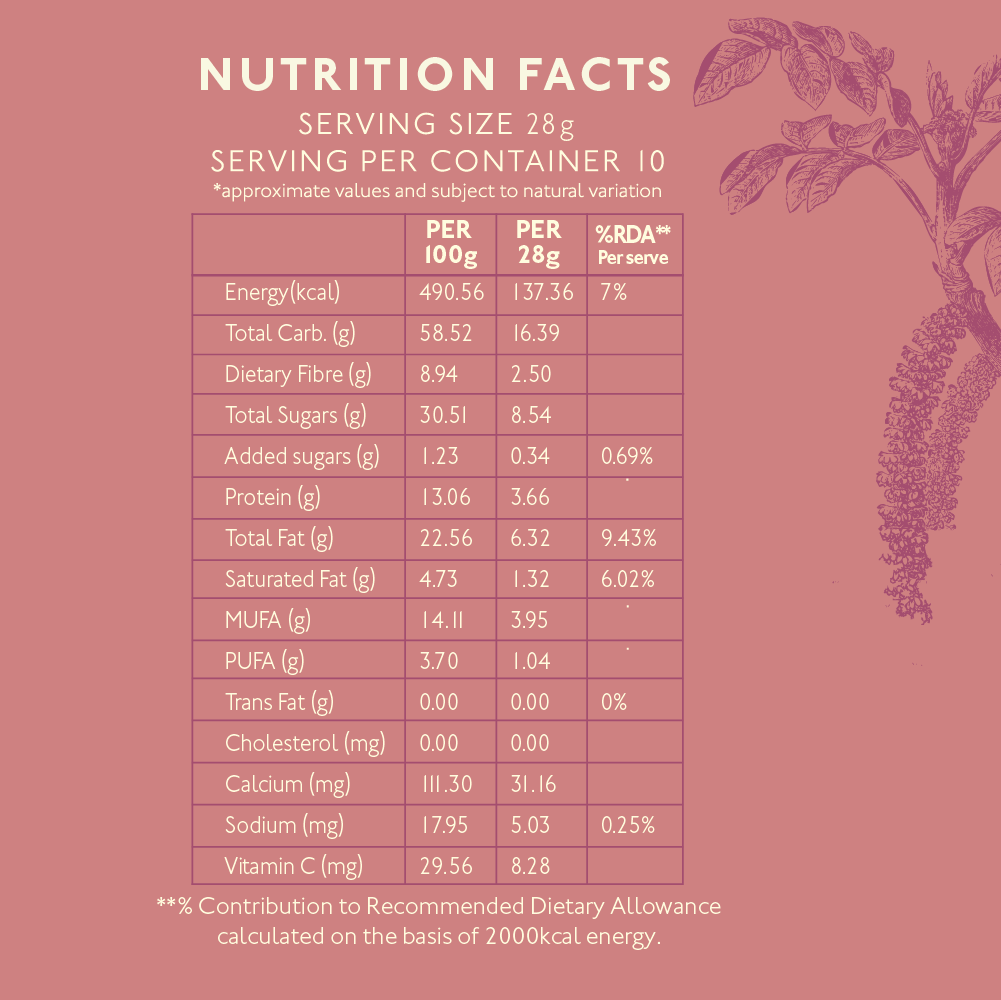 Certified Organic Favourites
Net Weight: 560g
Here's a bundle of a handpicked collection of our Certified Organic products which include Amaranth Muesli, Amla Bar, and Honey Roasted Almonds

Amaranth Muesli - The nutty, crunchy texture and sweet echoes of cinnamon and vanilla make it a delicious way to start any day. Enjoy a bowl with greek yogurt and fruit compote for a brilliant breakfast (or anytime treat)!

Amla bar - Full of Vitamin C, Alma also helps you fight the common cold and keep your immune system

Heart-healthy roasted almonds get a sweet treatment with a touch of golden honey! These delicious nuts are filled with plant protein, powerful antioxidants, and good-for-you fats.
Highlights
WHEAT FREE

ORGANIC INGREDIENTS

Zero
Trans Fat
Ingredients
Amaranth Muesli Organic Amaranth (25%), Organic Honey (15%), Organic raisins (14%), Organic Almonds (11%), Organic sunflower seeds (11%), Organic cashew nuts (10%), Figs, Strawberry, Dates, Vanilla & cinnamon powder
Amla Bar Organic amla candy (37%), Organic raisin (28%), Organic cashew nuts (16%), Organic Almonds (14%), organic honey (5%)
Honey Roasted Almonds Organic almonds(63%), Organic brown sugar (23%), Organic Honey (6%), Organic sesame seed (5%), Organic peanuts (3%)
Nutritional Info
Amaranth Muesli
| | |
| --- | --- |
| Nutritional Detail | Per 30 g |
| CALORIES (kcal) | 462 |
| TOTAL CARB (g) | 58` |
| DIETARY FIBRE (g) | 11 |
| TOTAL SUGAR (g) | 30 |
| PROTEIN (g) | 11 |
| TOTAL FAT (g) | 21 |
| TRANS FAT (g) | 0 |
| MUFA (g) | 6 |
| PUFA (g) | 2 |
| CHOLESTEROL (mg) | 0 |
| SATURATED FAT (g) | 13 |
| CALCIUM (mg) | 143 |
| IRON (mg) | 14 |
| VITAMIN C (mg) | 113 |
Amla Bar
| | |
| --- | --- |
| Nutritional Detail | Per 30 g |
| CALORIES (kcal) | 120.3 |
| TOTAL CARB (g) | 23.4` |
| DIETARY FIBRE (g) | 5.4 |
| TOTAL SUGAR (g) | 6.6 |
| PROTEIN (g) | 1.5 |
| TOTAL FAT (g) | 2.1 |
| TRANS FAT (g) | 0 |
| MUFA (g) | 1.5 |
| PUFA (g) | 0 |
| CHOLESTEROL (mg) | 0 |
| SATURATED FAT (g) | 0.6 |
| SODIUM (mg) | 6 |
Honey Roasted Almonds
| | |
| --- | --- |
| Nutritional Detail | Per 30 g |
| CALORIES (kcal) | 174.6 |
| TOTAL CARB (g) | 11.7 |
| DIETARY FIBRE (g) | 3.6 |
| TOTAL SUGAR (g) | 2.7 |
| PROTEIN (g) | 4.2 |
| TOTAL FAT (g) | 12.3 |
| TRANS FAT (g) | 0 |
| MUFA (g) | 4.5 |
| PUFA (g) | 1.5 |
| CHOLESTEROL (mg) | 0 |
| SATURATED FAT (g) | 1.5 |
| SODIUM (mg) | 0 |