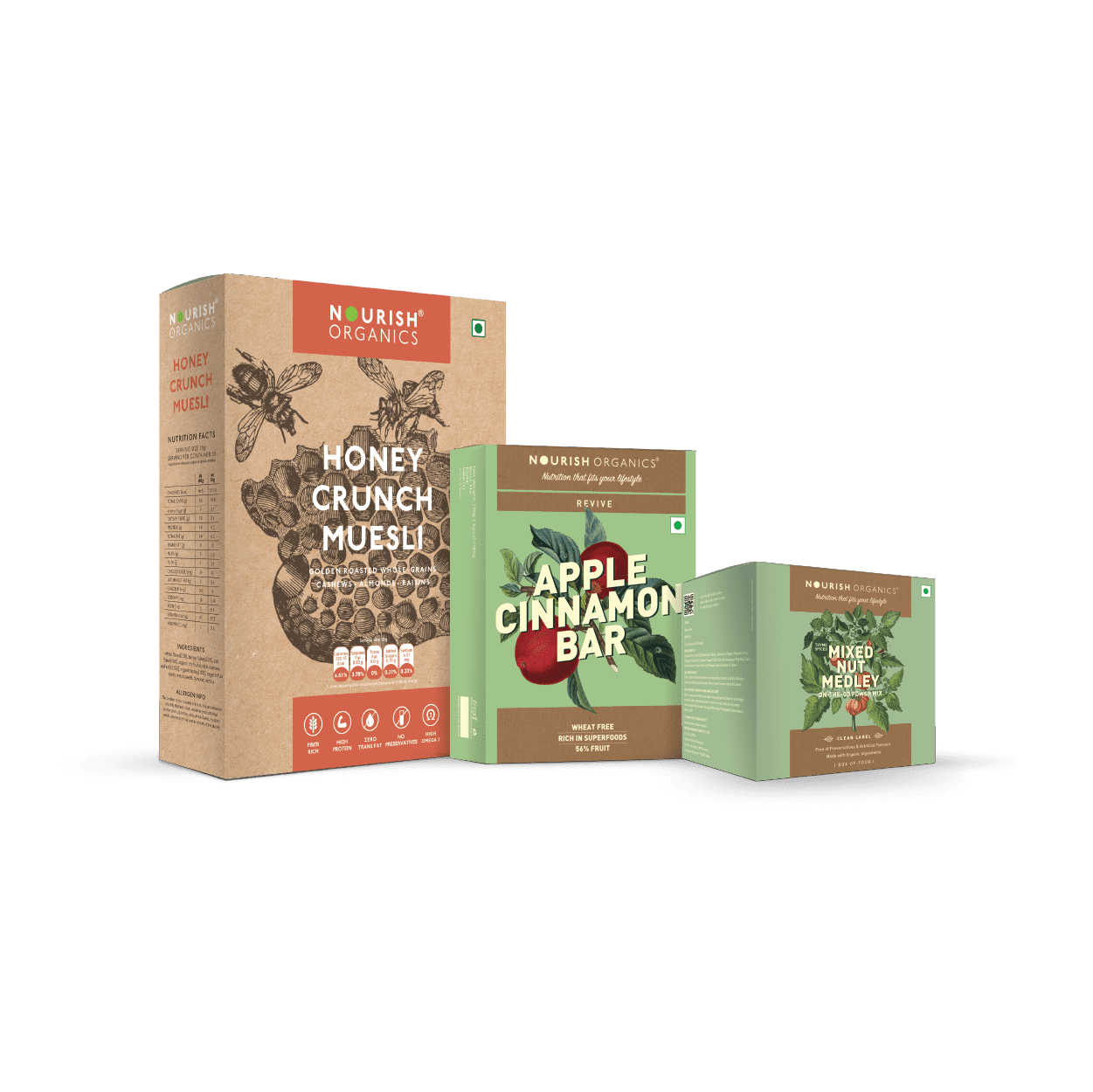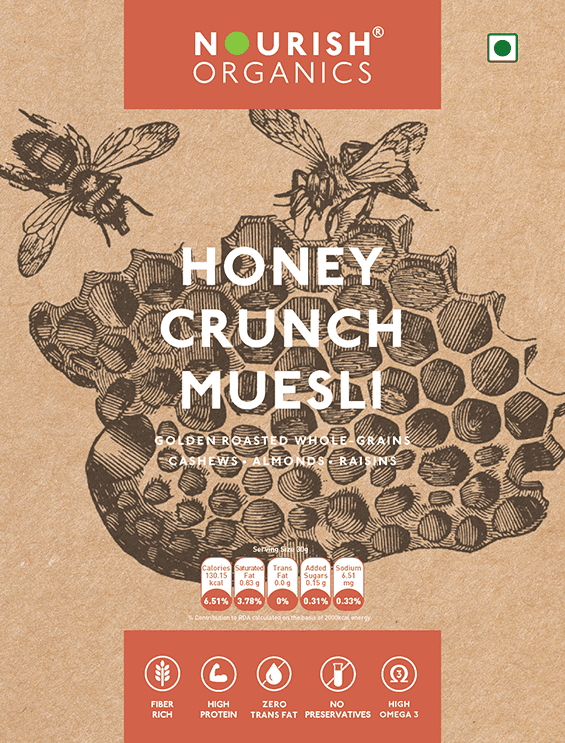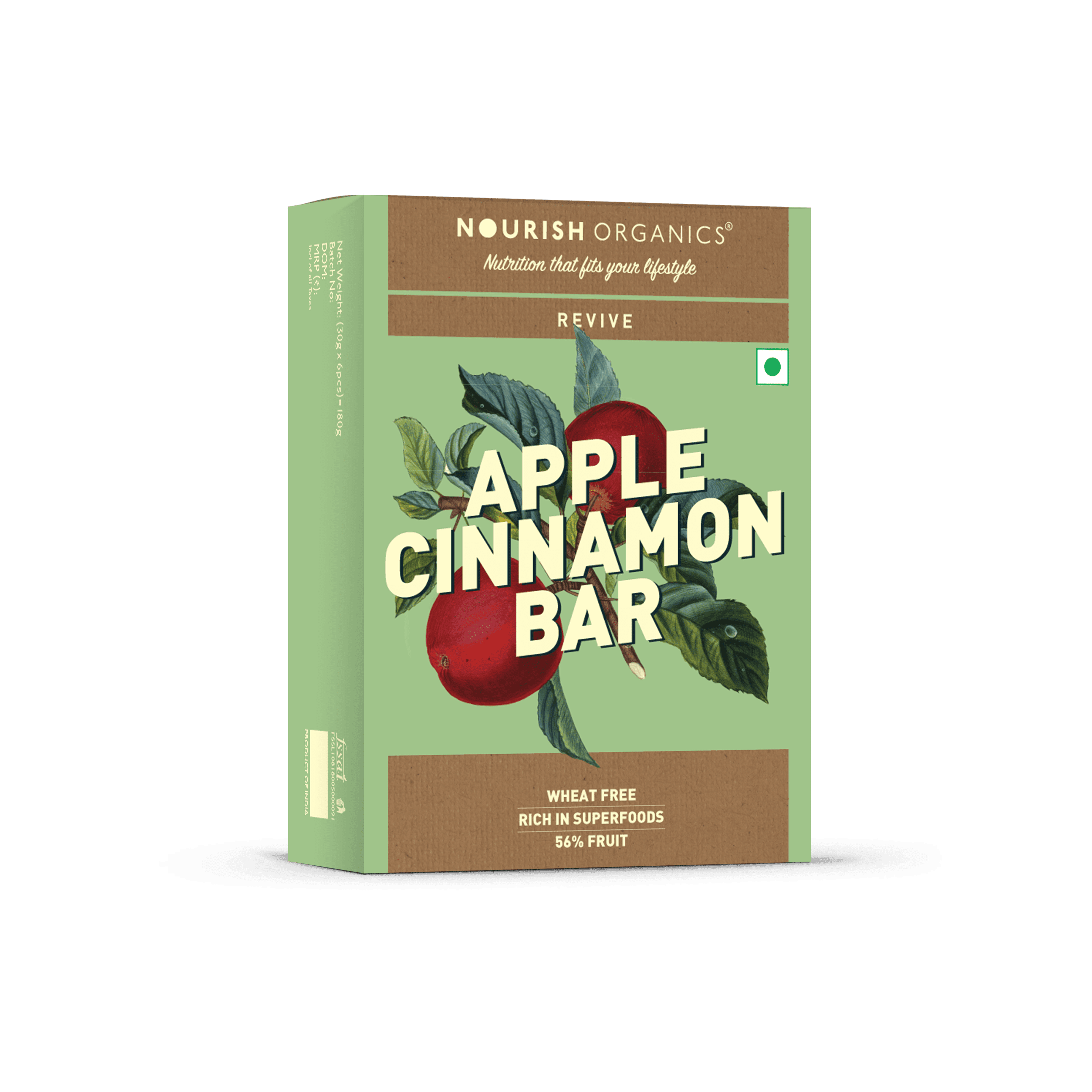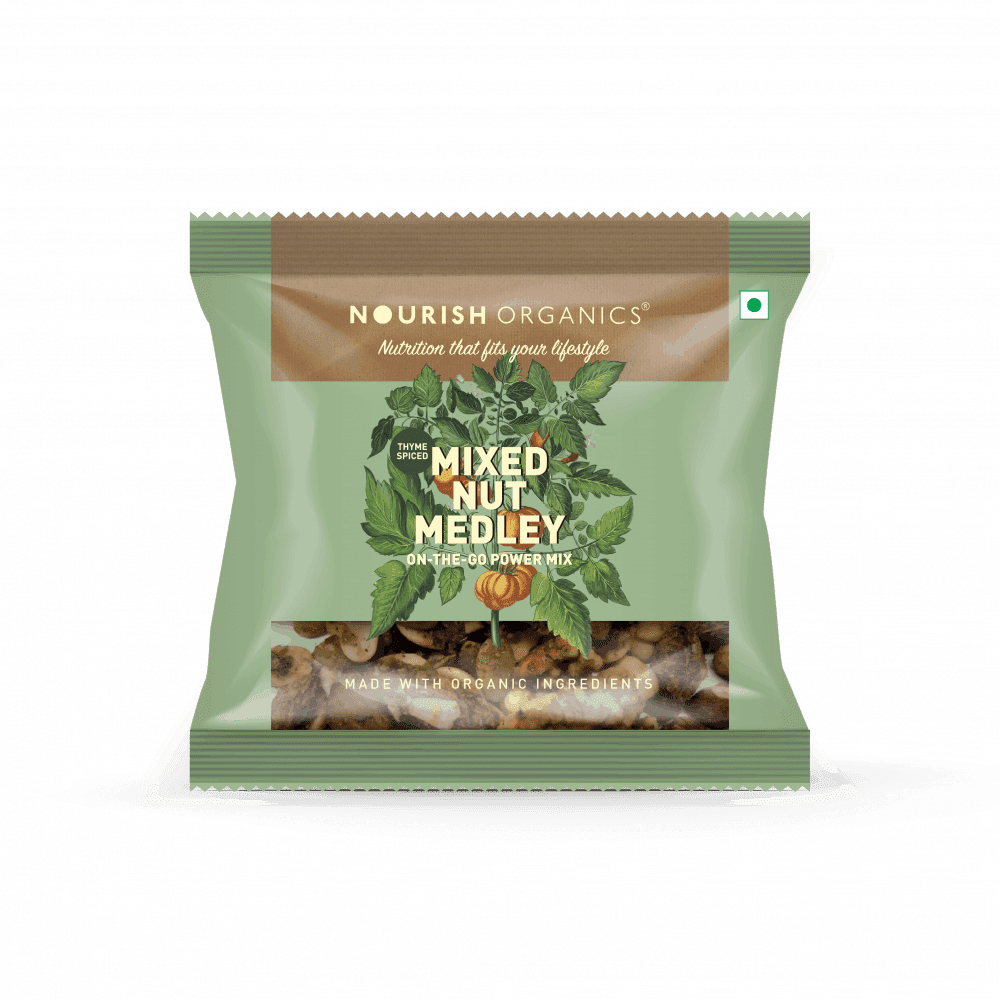 Lean Green Medley
Net Weight: 570g
Now here's a bundle you can *lean* on to power you up! Step up your fitness game, with our limited edition bundle - "Lean Green Medley" containing Lean Muesli, Lime chia bar, and Mixed Nut Medley. 
Honey Crunch Muesli - a wholesome, unprocessed, all-natural muesli made with crunchy, antioxidant-rich makhanas, fibrous amaranth, and a nutty mix of fruits & seeds. 
Amla Bar - Full of Vitamin C, Alma also helps you fight the common cold and keep your immune system steadfast while aiding digestion and curing heart problems.
Mixed Nut Medley - A wholesome mix of organic almonds, walnuts, and peanuts, along with nutritious seeds and raisins.
Highlights
WHEAT FREE

ORGANIC INGREDIENTS

Zero
Trans Fat
Ingredients
Honey Crunch Muesli Organic amaranth (22%), Foxnuts (18%), Organic Honey (16%), Coconut powder (11%), Dates (7%), Organic Almonds, Organic raisin, Black current,  Pumpkin seeds, Poppy seeds, Cashew nut, Cinnamon, Salt Amla Bar Organic amla candy (37%), Organic raisin (28%), Organic cashew nuts (16%), Organic almonds (14%), organic honey (5%) Mixed Nut Medley Organic Dry Fruits (34%)[Walnuts, Almonds, Raisins], Organic Peanuts(39%), Pumpkin Seed (10%), Organic Honey(5.2%), Olive Oil, Himalayan Pink Rock Salt, Onion Powder, Organic Red Chili Powder, Garlic Powder & Thyme."
Nutritional Info
Lean Muesli
| | |
| --- | --- |
| Nutritional Detail | Per 30 g |
| CALORIES (kcal) | 99.3 |
| TOTAL CARB (g) | 10` |
| DIETARY FIBRE (g) | 2.2 |
| TOTAL SUGAR (g) | 6.6 |
| PROTEIN (g) | 2.3 |
| TOTAL FAT (g) | 5.6 |
| TRANS FAT (g) | 0 |
| MUFA (g) | 0.6 |
| PUFA (g) | 1 |
| CHOLESTEROL (mg) | 0 |
| SATURATED FAT (g) | 3.3 |
Amla Bar
| | |
| --- | --- |
| Nutritional Detail | Per 30 g |
| CALORIES (kcal) | 120.3 |
| TOTAL CARB (g) | 23.4` |
| DIETARY FIBRE (g) | 5.4 |
| TOTAL SUGAR (g) | 6.6 |
| PROTEIN (g) | 1.5 |
| TOTAL FAT (g) | 2.1 |
| TRANS FAT (g) | 0 |
| MUFA (g) | 1.5 |
| PUFA (g) | 0 |
| CHOLESTEROL (mg) | 0 |
| SATURATED FAT (g) | 0.6 |
| SODIUM (mg) | 6 |
Mixed Nut Medley
| | | |
| --- | --- | --- |
| Nutritional Detail | Per 100 g | Per 35g |
| Energy(kcal) | 610.32 | 213.61 |
| Protein (g) | 25.74 | 9.01 |
| Total Carbohydrate (g) | 20.55 | 7.19 |
| Dietary Fibre (g) | 9.06 | 3.17 |
| Sugars (g) | 9.47 | 3.31 |
| Total Fat (g) | 47.24 | 16.53 |
| Saturated Fat (g) | 6.30 | 2.20 |
| MUFA (g) | 22.12 | 7.74 |
| PUFA (g) | 18.82 | 6.59 |
| Trans Fat (g) |  0.00 |  0.00 |
| Cholesterol (mg) |  0.00 |  0.00 |
| Calcium (mg) | 120.47 | 42.16 |
| Sodium (mg) | 529.50 | 185.33 |