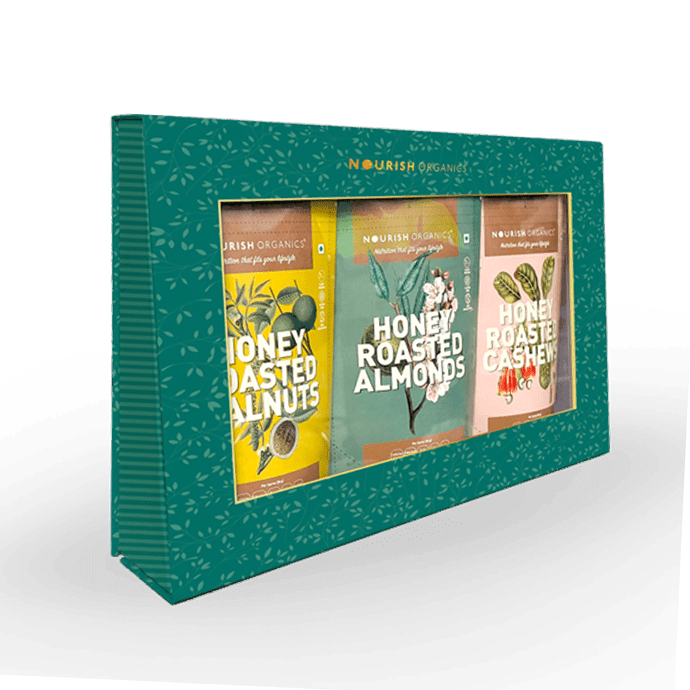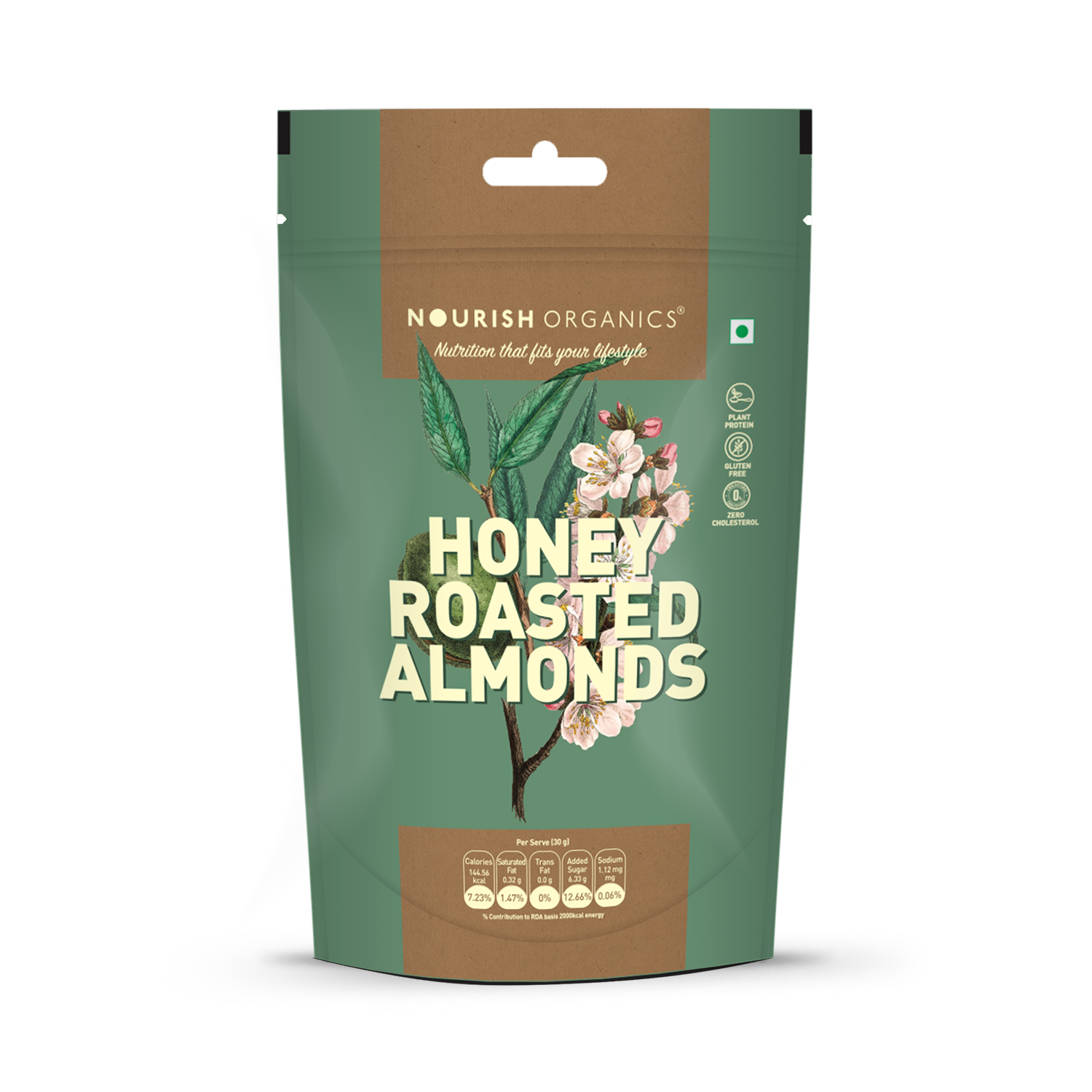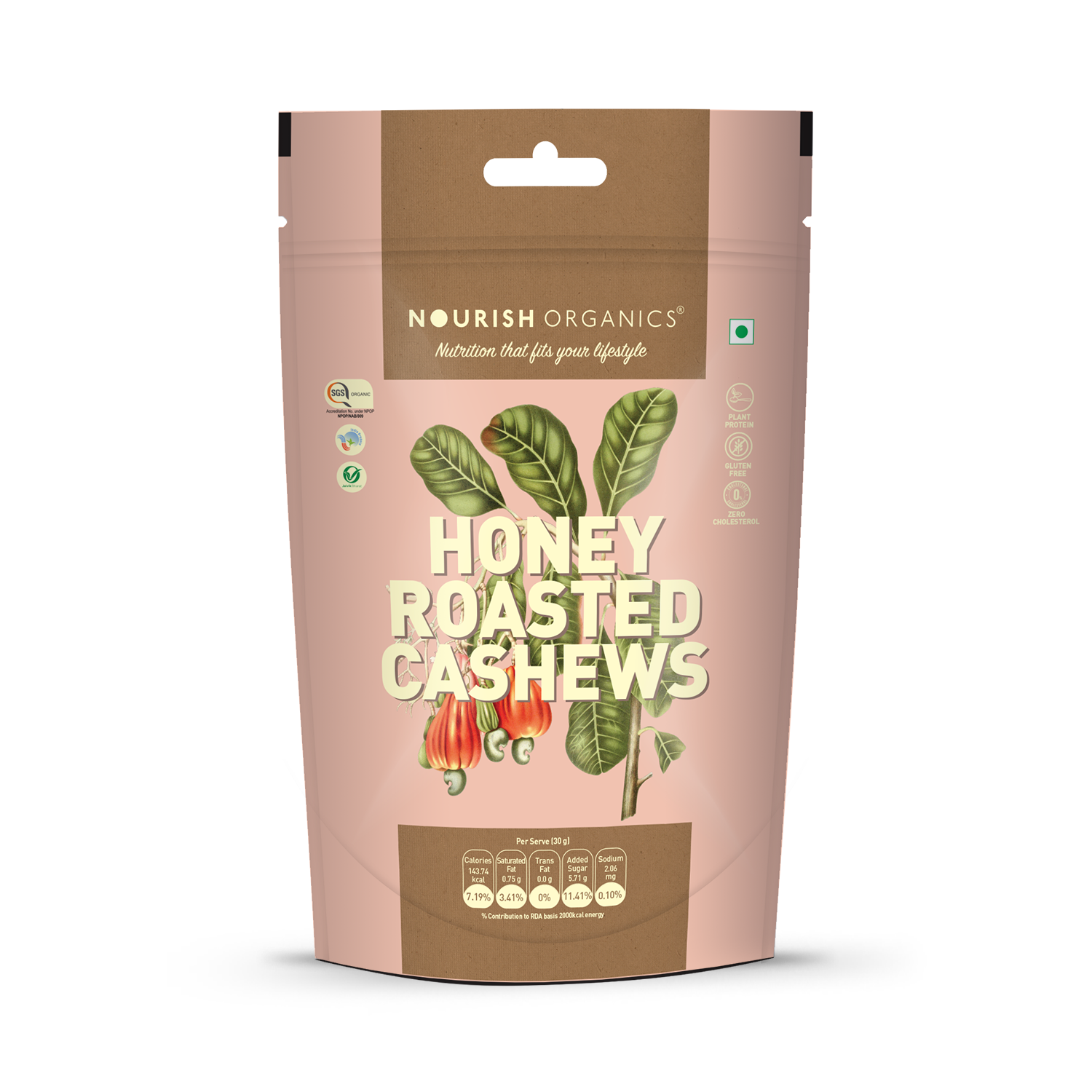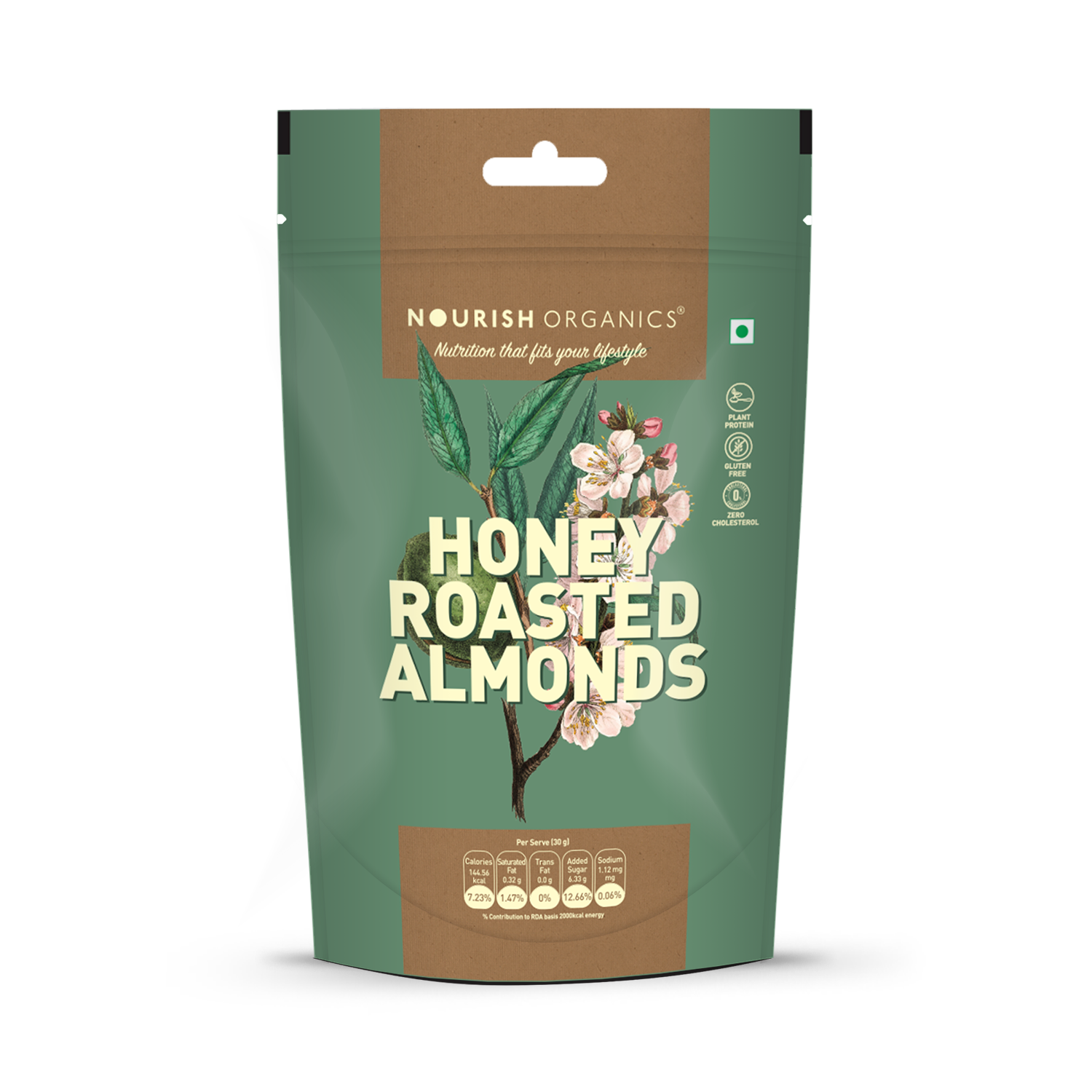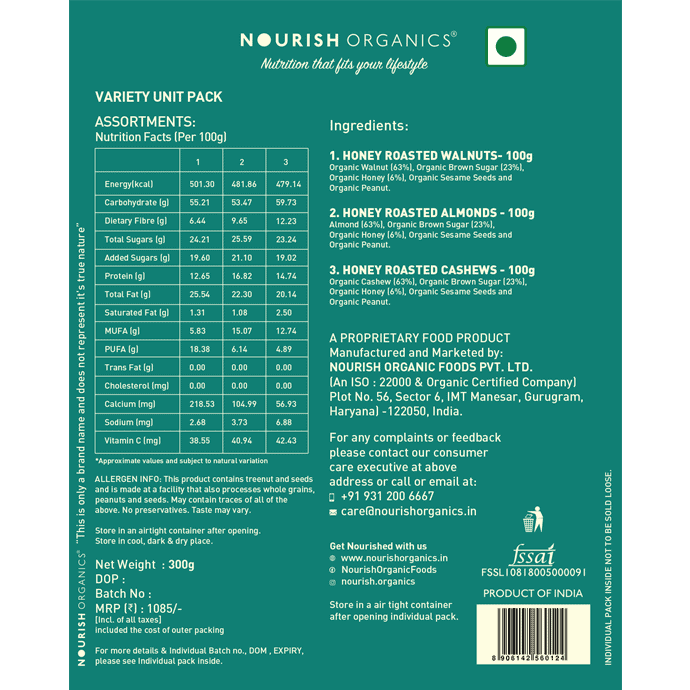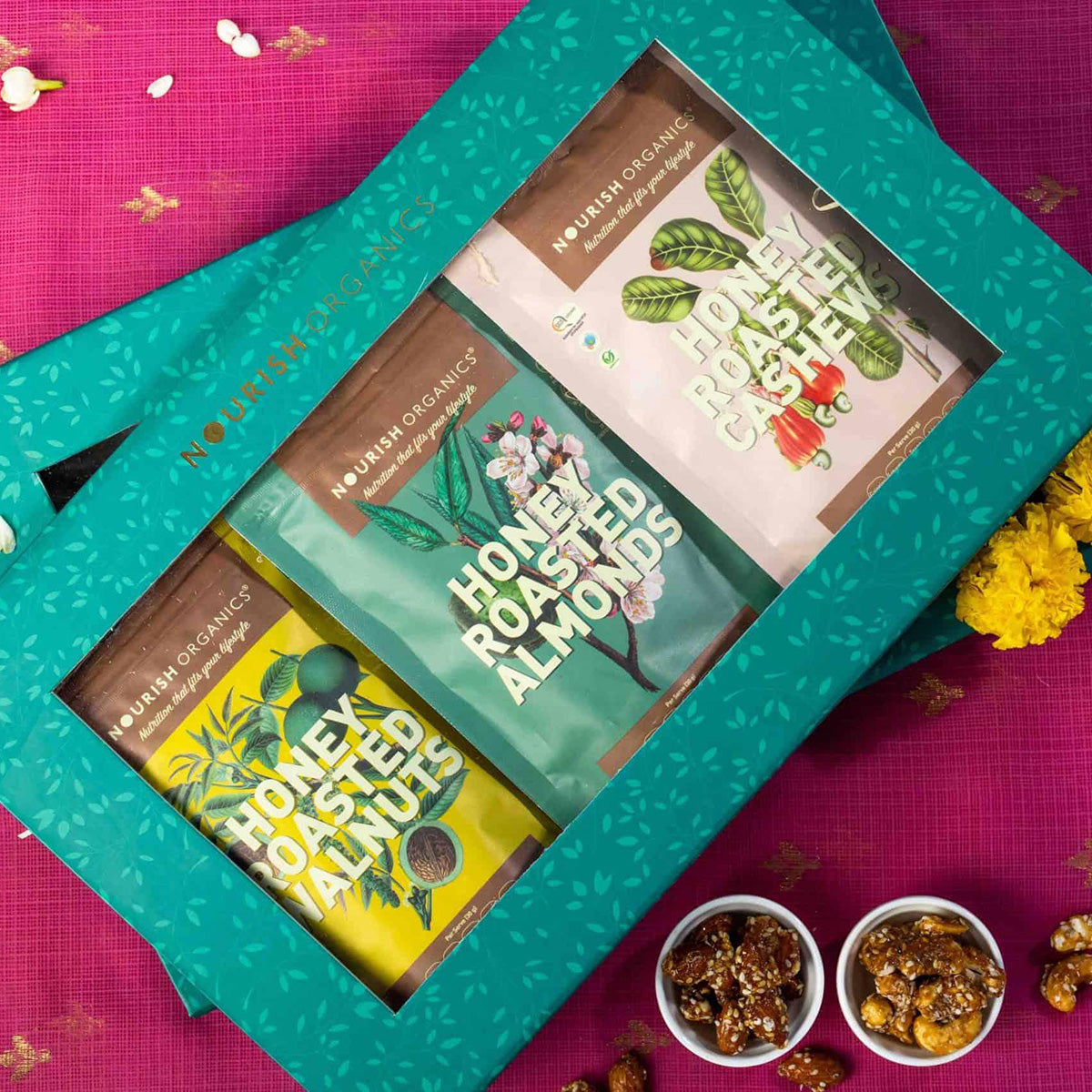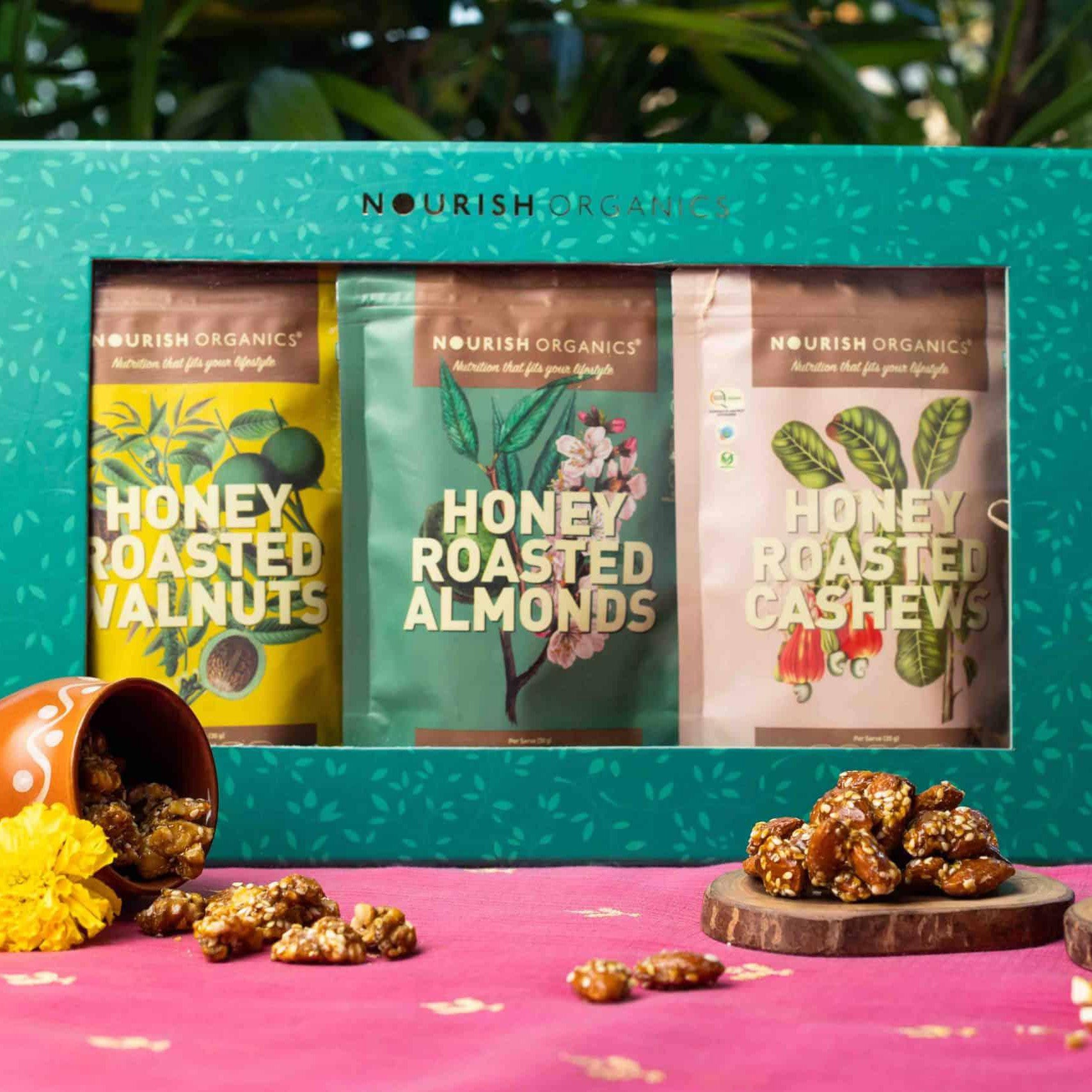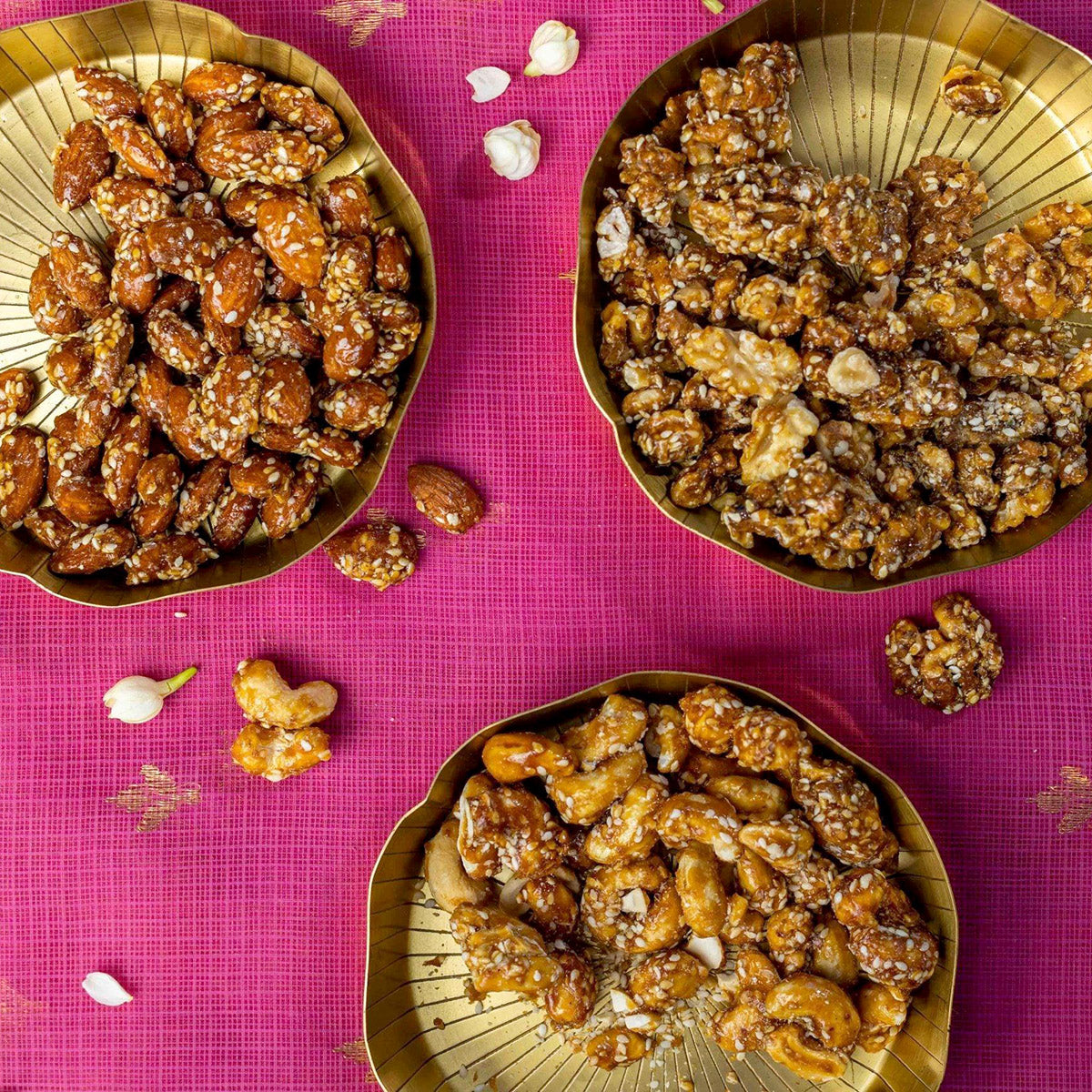 Gifting Pack - Honey Roasted Nuts
Net Weight: 300g
Filled with good-for-you fats and antioxidants our Honey Roasted Nuts are great anytime crave-busting snack. This gift box contains Honey Roasted Cashews, Honey Roasted Almonds, and Honey Roasted Walnuts.
Honey Roasted Cashews - 100g: A sweet dollop of honey makes our roasted cashews so delicious! Packed with strengthening antioxidants like magnesium, selenium and copper, these yummy bites are a superfood in disguise. We're sure you'll love them as a treat any time of day!
Honey Roasted Almonds - 100g: Heart healthy roasted almonds get a sweet treatment with a touch of golden honey! These delicious nuts are filled with plant protein, powerful antioxidants and good-for-you fats. They're a great anytime treat, or even a simple (and healthy!) dessert.
Honey Roasted Walnuts - 100g: Oh-so-good-for-you walnuts are roasted with golden honey to make this delightful treat. An amazing source of antioxidants and healthy fats, our Honey Roasted Walnuts are a heart-strengthening, brain-boosting superfood. As nutritious as they are delicious, they're a perfect snack for your whole family!
Highlights
WHEAT FREE

ORGANIC INGREDIENTS

Zero
Trans Fat
Ingredients
Honey Roasted Cashews - Organic cashew (63%),  Organic brown sugar (23%), Organic Honey (6%), Organic sesame seed (5%), Organic peanuts (3%) Honey Roasted Almonds - Organic almonds(63%), Organic brown sugar (23%), Organic Honey (6%), Organic sesame seed (5%), Organic peanuts (3%) Honey Roasted Walnuts - Organic walnuts (63%),  Organic brown sugar (23%), Organic Honey (6%), Organic sesame seed (5%), Organic peanuts (3%)
Nutritional Info
Nutritional DetailPer 30g
Honey Roasted Cashews
Honey Roasted Almonds
Honey Roasted Walnuts
 CALORIES (kcal)
171
174.6
180
 TOTAL CARB (g)
13.2
11.7
12
 TOTAL SUGAR (g)
2.1
2.7
4.2
 DIETARY FIBRE (g)
3.3
3.6
3.6
 PROTEIN (g)
3.9
4.2
3.6
 TOTAL FAT (g)
11.4
12.3
12.9
 TRANS FAT (g)
 0
0
0
 MUFA (g)
3.3
4.5
0.6
 PUFA (g)
0.9
1.5
1.8
SATURATED FAT (g)
3
1.5
3
SODIUM (mg)
0
0
0