Breakfast Cereals changing the game of Indian Breakfast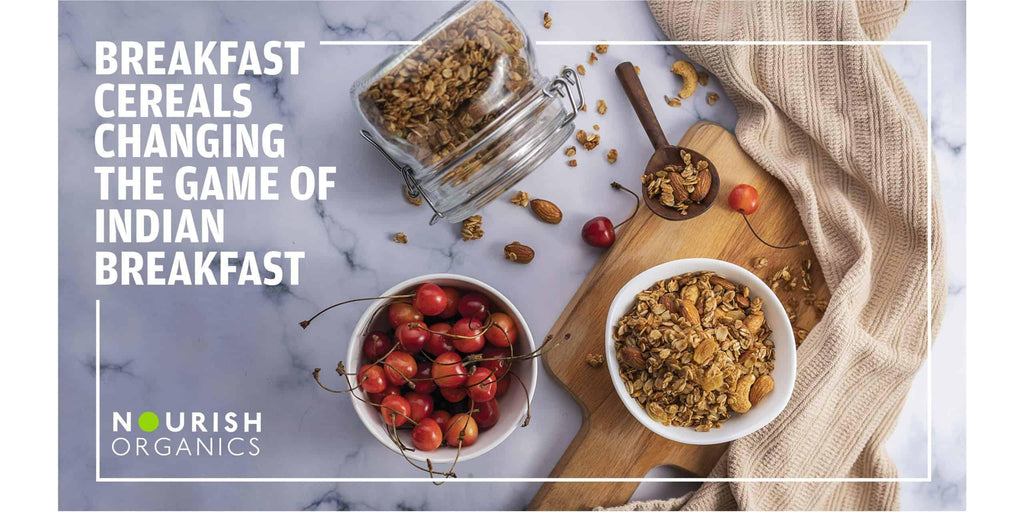 Everyone has been told once or twice, or repeatedly, that breakfast is the most important meal of the day. Not just because it is the first meal of the new day, but also because it breaks the overnight fasting period and replenishes our supply of glucose and important nutrients such as calcium, iron and vitamin D. In the olden days, breakfast would constitute the family gathering, sitting across from each other in the dining room and starting their day together with healthy and heavy Indian delicacies. Parathas with pickle, poha & chutney, crisp dosas, steaming idlis, aloo puri, besan chilas, etc. were designed to load us up with carbohydrates and essential fats to kickstart the day with bouts of energy. Today, these delectable Indian breakfast classics are under the radar from health & fitness enthusiasts across the country. Their concerns are focused on addressing the carb-overload that is predominant across Indian breakfasts and finding healthier alternatives to begin the day.
The science behind the importance of breakfast is simple. Carbs are the fuel that the body runs on and most of these carbs come from breakfast. When we wake up after a period of fasting,  the blood sugar our body needs to make our muscles and body work efficiently is usually low. If we don't have breakfast, then our body feels lethargic and zapped off energy. And this is when the urge to nibble on anything that is easily available, usually junk and less nutritious, kicks in. This quick fix is okay for a while but the cycle of disorderly eating continues till we have a proper meal.
Whether Indian breakfast or any other, the essence is to get the maximum energy and nutrition at the lowest calories possible. "You are what you eat", it's ironic how true it is. The kinds of foods and drinks we consume determine the types of nutrients and how they impact our mind and body. Intake of energy doesn't equate to the consumption of more carbs, it equates to better and sustainable healthy food options. This is where breakfast cereals come in as effective and efficient substitutes. The benefits of consuming breakfast cereals go beyond the generic conventions of keeping us full or combatting obesity. Studies suggest that fiber-rich cereals like quinoa, amaranth, oats, millets promote gastrointestinal health, decrease the risks of high blood pressure, high cholesterol and even help combat colon cancer.
Breakfast cereals like muesli and granola have taken center stage in the Indian breakfast space. Both these cereal blends are made with oats that provide magnesium, iron and potassium, nuts that are a great source of calcium, raisins with their taste of sweetness and vitamin B6 and grains that are high in fiber and minerals. A bowl of muesli or granola is a fiber-protein dream team and the payoff in vitamins and minerals across the board makes us a winner.
Breakfast cereals have secured a well-regarded position as one of the tastiest option available while trying to lose weight. The ingredients in muesli or granolas promote weight-loss by nourishing the body and regulating metabolism, but also by giving the body necessary calories without excess.
In an article featuring 6 breakfast cereals healthier than others in the Economic Times, Medical doctor and a revered wellness expert, Dr. Shikha Sharma highlights Muesli as a great choice for breakfast owing to the nuts, dried fruits, seeds and toasted whole grains. She further mentions how muesli with yogurt  makes for a great snack for kids.
Both Muesli & Granola are deliciously healthy breakfast options; both can adapt to contrasts of having it with milk or without mil. With adaptability to our tastes, they're also economical and absolutely frugal! Even right out of the box, breakfast cereals are healthy and energy-dense. The combination of whole oats, wheat flakes, dried fruits and nuts provide a dietary fiber, which helps in fighting bad cholesterol and digestion problems.
All we want today is a healthy lifestyle. This comes with a need for great nutrition without having the luxury of time to invest in making a holistic breakfast every morning. Breakfast cereals sweep in here and turn the tide. With our fast-paced routine, we like the comfort of buying breakfast cereals online and substituting elaborate morning stress. On bright and lazy mornings, imagine adding fresh fruits like bananas, apples, pear, strawberries or even more almonds, walnuts, pumpkin seeds, chia or flaxseed and turning your breakfast cereal into a bowl of happiness.
We love to get the best of both worlds and why shouldn't we! Here's a breakfast recipe with a desi twist, featuring our very own Lean Muesli along with fresh turmeric from our Nourish garden.
Lean Muesli Turmeric Smoothie Bowl
Yield: 2 servings
Ingredients
3 inches fresh grated turmeric root or 2 tsp ground turmeric

1 cup rolled oats, soaked in water overnight

4 tbsp coconut milk

500 ml water

2 bananas, peeled and chopped

A pinch of ground cinnamon

1 cup Nourish Organics Lean Muesli

Chopped nuts or raisins to garnish
Instructions
Blend the overnight oats, bananas, fresh turmeric, coconut milk, cinnamon with 500 ml of water in a blender until smooth. Serve in a bowl garnished with crunchy Lean Muesli and chopped raisins and nuts.
Buy breakfast cereals online
at and use code CC15 for an exclusive 15% off on your purchase. Offer available for limited time period only. Happy Mornings!