Clean snacking on-the-go!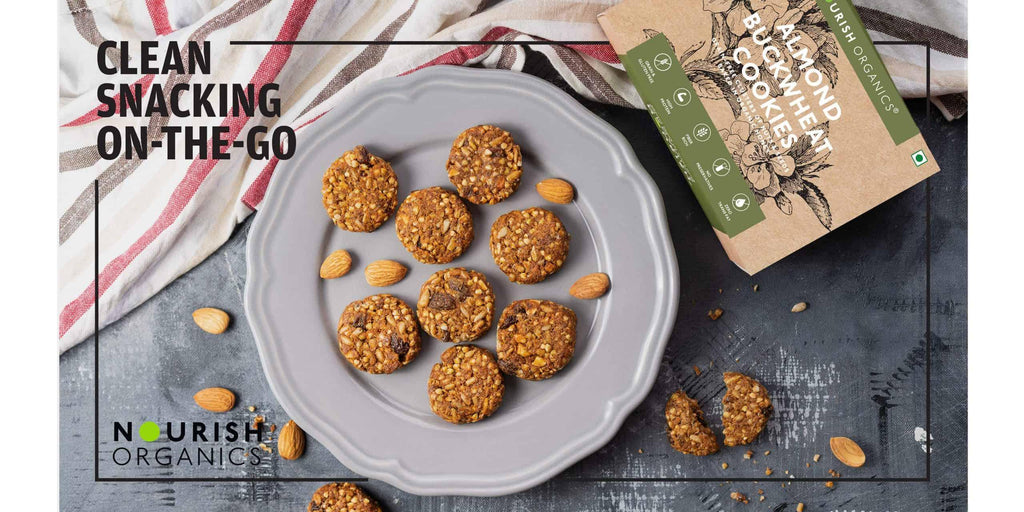 Healthy eating is a conscious lifestyle choice and it comes with its own set of challenges. While whole meals are simpler to put together, it is the light snacking options that usually have us in a fix. So here we are to make your life a little simpler and a whole lot nourished!
On my busy days, it's common for me to constantly be on the go. The body needs a regular dose of energy to keep it going, which is why snacking right becomes vital. True nourishment as an experience comes with the right choice of snacks for an energetic and lean you.
Here are a few of my favourites, when it comes to eating healthy, clean and might I add, yummy too!
1.Smooth hummus with baked flax crackers: with the protein of chickpeas and benefits of omega 3 from flax crackers, you are sure to be full and energetic throughout the day. Pack a little in your bag and carry it with you. Pop in a few crackers as you're on-the-go,in the car, on the subway, basically anywhere! And to add a little gourmet twist, you could always chop a few cherry tomatoes and avocado and relish your cracker all the same. Here's a link to grab your box of our customer favourite Tomato & Herb Crackers- /collections/snacks/products/tomato-herb-flax-crackers
2.Crisp veggie sticks with creamy yogurt dip: ​one of the easiest recipes, you can never go wrong with this one. Prepare some fresh hung-curd and garlic dip the night before and you're sorted for two days straight days. Chop your favourite veggies and pack them in a zip-lock pouch. You could even sort them day-wise and pre-pack. Celery sticks, carrots, cucumber sticks are some great options full of nutrients and great to keep the body cool in the summer.
3.Wholesome cookie with your evening tea​: a healthy indulgence for when you need that little energy rush. You could try our range of fibrous and high in protein cookies to go with your evening cup of tea or coffee. Loaded with the goodness of ingredients like cacao nibs, turmeric etc these are rich in antioxidants and fibre. Good for the body, great for the taste buds!
4.Crunchy nuts and seeds​: A handful of nuts and seeds or a fruity trail mix will keep you high on energy and protein all day. Packed with the nutrition of omega 3, high fibre and protein, this is a perfect snacking option for people with diabetes and wanting to lose some weight.
5.Fresh seasonal fruits: ​A season like summer and you do not eat mango? Now how can that be! So, cut up some juicy, fresh mango, freeze it for a bit and enjoy the nutritious bowl of goodness. Every season comes with its favourite fruit and that serves as a healthy snacking option and gives you natural nutrition in abundance. I can't wait for the monsoons to bring in fresh watercress and lovely custard apples.
6.Cooling fresh juice​: There's a host of different combinations you can try with this one. All you need is a blender and some ice. For a green option, you could blitz some celery, cucumber and mint or a berrylicious option could have frozen berries with some bananas, the options are limitless. You do you and enjoy the fresh burst of some summer coolers.
7.Greek yogurt: A summer favourite, this yummy and prsnack is available in a variety of flavours and at a store near you. While my favorite is Epigamia classic greek yogurt, you could try them all and choose your pick! Sprinkle a little granola on it and you're in for a wholesome snack.
And voila! Here you have some picks from my kitchen cabinet of favourite healthy snacks. Eating clean may be a challenge, but we sure know how to overcome it. Try them all and let us know which one's your top pick. Happy, healthy snacking to you!