Colourful Food for a Nourished YOU!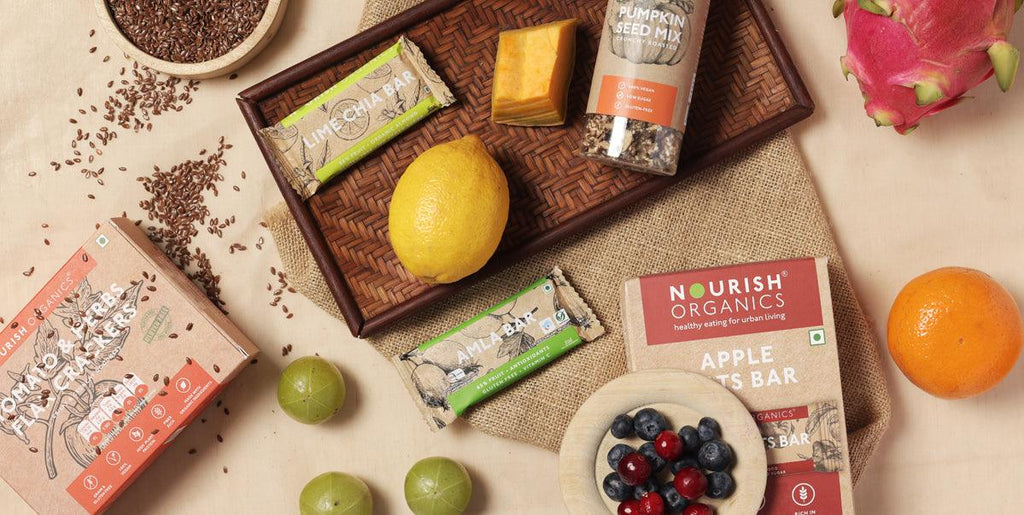 It's the most colourful time of the year!
Each Holi, we wish health and happiness to our loved ones as we shower them with all the colours of the rainbow. Well, what if we told you that there was a pot
of 'health' at the end of this rainbow? We're talking about your diet, of course. Studies have shown that eating foods ina variety of colours can help you consume a cross-section of nutrients and help fulfil your body's nutritional requirements. This is primarily because food gets its colours from a variety of pigments, substances and nutrients so that each colour
has its own nutritional benefits. Let us look at the correlation between nutrition and colour in some detail:
A 'Green' flag!
Eating your greens was important as a child and it is important as an adult. Green fruits and vegetables contain a ton of antioxidants, as well as nutrients such as calcium, magnesium, potassium, Omega 3 fatty acids, vitamins B, C, E and K, and minerals, which are key in improving eyesight, bone strength, immune system, blood circulation, and metabolism. They're also the only food source rich in chlorophyll, which helps to combat oxidants in the bloodstream. Some green foods include amla, avocados, beans, broccoli, Brussels sprouts, cabbage, celery, cucumbers, spinach, kiwi, kale, green apple, grapes, lime, zucchini, bottle gourd, bitter gourd, peas, green pepper and lettuce.
'Orange' you glad for these foods?
Orange foods are rich in vitamin C and zeaxanthin, which is essential for eye health and helps prevent cataract formation. Vitamin C also helps protect against immune system deficiencies, cardiovascular disease, and premature ageing. Furthermore, orange foods help in the production of collagen, balance the body's pH levels, improve bone health and balance blood pressure and cholesterol levels. Some common orange foods are carrots, oranges, sweet potatoes, peaches, pumpkins and papayas.
You had me at 'Yellow'
Sunshine, happiness and health — that's yellow for you! Yellow fruits and vegetables are rich in antioxidants and vitamins. Foods such as bananas and pineapples are good sources of potassium and vitamin C, while mangoes are good sources of vitamins A and C, and fibre. These nutrients are beneficial for the skin, hair, heart and eyes, and can also help prevent some forms of cancer. Other yellow foods include yellow peppers, yellow squash, corn, lemons etc. incREDible foods Most red fruits and veggies are full of antioxidants that help fight heart disease and prevent cell damage. In fact, different red fruits have different health benefits— for example, strawberries are good sources of folate, vitamin C and
antioxidants, cherries are high in potassium and fibre, tomatoes contain potassium and vitamins B and E, and red peppers are rich in vitamin A. These nutrients have a variety of health benefits for the body, including helping with digestion, heart health, and immunity. Some red foods to add to your diet are  strawberries, tomatoes, cranberries, cherries, raspberries, red bell peppers, and apples.
Royally Purple
Purple is rightly called the king of colours! Purple fruits and vegetables are rich in antioxidants, which can improve cell health. These foods also help prevent various cancers and regulate cholesterol and blood pressure. Grapes are rich in potassium, eggplant has vitamins A and E, and blackberries are rich in fibre and manganese. Other purple foods include blueberries, black currants, and plums.
White is right
Though white fruits and vegetables are not the most colourful ones there are, they are rich in folate, magnesium, manganese, potassium, and vitamins B and K, and can also have antibacterial and antiviral properties, These nutrients make these foods help in reducing the risk of heart disease, allergic reactions, and autoimmune disorders. For example, garlic is helpful in regulating blood pressure, cauliflowers are high in fibre and vitamin B, mushrooms can help reduce the risk of Alzheimer's, heart disease, cancer, and diabetes, and radishes are rich in calcium, potassium, and even nitrates which help to improve the blood flow.
In the Pink of health!
Not only are pink foods really nice to look at, they're also extremely nourishing! These foods get their colours from anthocyanins, which are loaded with antioxidants and have antimicrobial properties, and betalains, which are known for their antioxidant content and anti-inflammatory properties. This makes pink foods such as grapefruits, beets, and dragon fruits especially healthy — beets, in particular, are rich in a host of nutrients such as potassium, magnesium, fibre, phosphorus, iron, folic acid and vitamins A, B and C.
Brown for the Crown
Fruits and vegetables are not the only colourful foods you should look out for. Brown-coloured foods such as jaggery, dates, and whole wheat can help you cover a wide range of nutritional categories that are essential for your health. For example, brown rice is full of dietary fibre and minerals, walnuts ae good for the skin and hair, almonds can help fight cholesterol and diabetes, dates are rich in iron, and flax seeds provide healthy fats, antioxidants and dietary fibre. PS- antioxidant-rich chocolate can also help improve heart health, reduce stress, and boost immunity — now that's a sweet deal!
Rainbow all the way!
As is evident, including a variety of colours in your diet can do wonders to help you boost your health and live a healthier, more balanced life. Staying healthy and nourished has never been more fun! Nourish Organics wishes you and your loved ones a very happy Holi — may your life (and your diet) always remain colourful!