Post Festive Detox with a sustainable organic health routine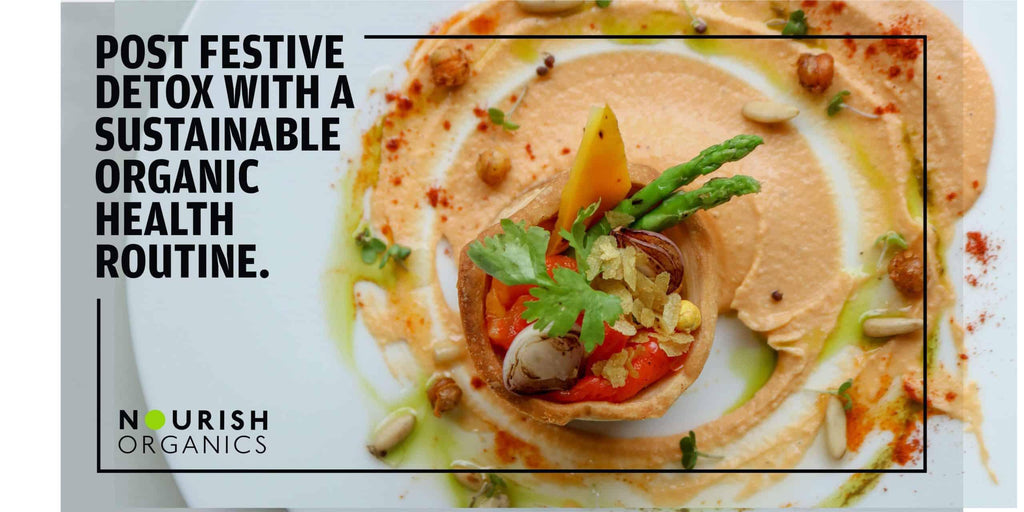 With Diwali and Halloween blazed past by, it's the festive hangover that still stays. Unlimited binging and boozing, loads of sweets and calories and the only exercise being party hopping, the body sure needs a detox!
Its post festival time and time to get back to work and routine. With all the unmindful eating and neglect that we've meted out to our bodies, it's now time to put on some healthy gear and naturally flush out the toxins.
AND WE'VE GOT JUST THE RIGHT STEP-TO-STEP GUIDE TO HELP YOU WITH YOUR POST FESTIVE DETOX-
1. Start with warm water with lemon.
Begin your day with warm lemon water and sip it throughout the day. Lemons provide several health benefits, which combined with warm water, can promote hydration and stimulate digestion throughout the day. Hydration is key. Consuming enough water is essential to help your liver and kidneys filter out toxins.
Try sipping on warm green tea before and after meals to keep your metabolism strong.
2. Have a nourishing breakfast.
Breakfast is the most important meal of the day. It not only gets you prepared for the day ahead but also sets the tone of the day right. In times of detox, it is essential to start the day on healthy and light note that helps the stomach and intestines do their job in a stress free environment. Therefore, beginning the day with oily and fatty foods like paranthas, bacon or complex starch is not advisable. Instead, opt for lighter yet more powerful options like multigrain muesli, cranberry oats muesli, avocado toast with a generous sprinkle of flax seeds etc. And accompany your meal with a probiotic drink like chaach or even a cold glass of almond milk. This will help the stomach stay cool and the fibre rich meals will aid digestion and flush out toxins faster. And the best part? These fully organic and nutrient rich muesli and seed mixes are available online at the click of a button! Visit our website to learn more.
3. Intermittent fasting.
Intermittent fasting is a simple way to get the benefits of a fast without feeling like you're deprived of food. Eat your last meal no later than 7 p.m. in the evening, and have a bowl of fresh fruits with a sprinkle of flax seeds and sunflower seeds  instead of a breakfast meal the next day. It is in this fasting state that your body is much better able to burn fat as fuel.
 4. Yoga
Yoga is the quickest way to get your energy system back into balance, plus it boosts your mood. Try incorporating 20 to 30 minutes in the morning to get back on your exercise track. You'll be feeling at-home in your body in no time!
5. Nuts and Seeds
Dry fruits and nuts are full of protein, minerals, healthy fats and antioxidants. Snacking on this helps prevent junk food snacking. This also helps keep the stomach light while keeping you satiated. Try a mix of flax seeds, pumpkin seeds and sunflower seeds that are rich in Omega 3 and Omega 6 which help the heart and liver stay healthy and strong. You can buy them online and be rest assured of investing in organic and healthy ingredients.
6. Avoid artificial sugars.
Sugars contain an abundance of empty calories. This is detrimental to the body, as you end up consuming a whole lot of fat boosting calories, which can cause weight gain and other problems. Instead, opt for healthier options with natural sweeteners like organic health bars. They're packed with protein and fibre rich ingredients to help you power snack through the day. You can buy different variants like amla bar, choco oats bar etc online from the Nourish Organics website.
Here's a protein rich and healthy smoothie that will help you with your post festive detox. A glass in the morning and you're good to go!
BANANA AND FLAX SEED SMOOTHIE
2 Tbsp Nourish Organics Flax seeds

1 Cup Milk

1/2 Cup Bananas (finely chopped)

2 tsp Honey
Recipe
In a blender or juicer, add bananas, flax seeds, and honey in milk, blend until you get a smooth mix.

Serve in glass or bowl of your choice.

Garnish with strawberry and banana slice.