5 Different Bircher Muesli ideas for nippy fall Mornings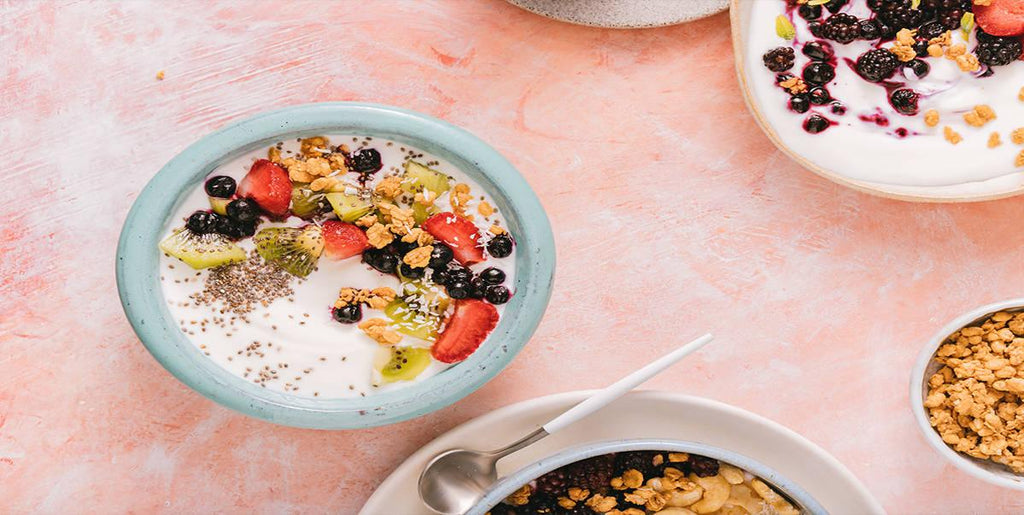 In the fast paced life of young millennials, 'instant everything' seems to play center stage! Waking up and practically rushing out the door, barely managing to look put together whilst grabbing your usual order at the Starbucks in your office compound has surely become a lifestyle we all identify with. But amidst all this rush one key factor that we seem to be compromising on is health. Pace is fine, but not at the cost of nutrition.
So, what do we do? Do we just skip breakfast entirely and practically survive on take outs the entire week? I mean, let's get real, no one has the time to spend an hour just on breakfast prep in the morning!
And this pertinent millennial issue is what has prompted the topic of this blog. In this day of gen-y and online stores, we bring to you the perfect solution for starting your day right and getting nourished with some hearty and healthy breakfast. We have specially curated for you 5 Fall Bircher Muesli Breakfast Recipes using the fully organic and 100% GMO free Nourish Organics Breakfast Cereals that star our 5 healthy and nourishing Mueslis, which are, Honey Crunch Muesli, Lean Muesli, Multigrain Muesli, Oats Granola and Seeds+Nuts Muesli. The best part about these recipes is that you can buy these products online with just a click of a button!
WHAT IS BIRCHER MUESLI?
Similar to traditional muesli, Bircher Muesli is a perfect breakfast choice to help keep you feeling full and energised all day long. Traditionally consisting of rolled oats, milk, apple and lemon juice, honey, cinnamon, grated apples, dried fruits, berries and toasted coconut, Bircher Muesli is great for combining with yoghurt. It essentially a bowl of muesli soaked overnight to create a soft consistency, and is accompanied with a combination of different fruits & nuts. A convenient combination of protein, vitamins and nutrients, preparing a bircher muesli really helps you have quick morning without compromising on essential health. A simple and healthy breakfast choice!
1. Apple and Honey Crunch Muesli Bircher-
(Serves 1)
Ingredients-
25g Nourish Organics Honey Crunch Muesli
1 tbsp chopped dried apricots or other dried fruit of your choice
6 tbsp apple juice
1 apple, coarsely grated
Splash of milk, to loosen
Handful of almonds, roughly chopped
Spoonful of yoghurt, to top
Honey, to top (optional)
Method-
Soak the muesli and dried fruit in the apple juice overnight.
Put the apple in a bowl, along with a pinch of salt. Add enough milk to bring to a loose porridgey consistency. Sprinkle with the nuts and add a dollop of yoghurt, plus a drizzle of honey if you have a sweet tooth. Serve immediately.
2. Apple, Cinnamon and Seeds+Nuts Muesli-
(Serves 1)
INGREDIENTS-
Instructions-
Place muesli in a large dish with lid
Grate apple coarsely, including skin over muesli
Chop apricot coarsely and add to mixture along with cinnamon powder
Stir to combine
Cover with milk and refrigerate overnight
Enjoy topped with yogurt, fresh fruit or a little extra milk to loosen
3. Pumpkin Spice Lean Muesli Bircher-
(Serves 1)
Ingredients-
Instructions-
Cover the muesli with the apple juice and leave to soak overnight in the refrigerator.

In the morning, peel and coarsely grate the apple and add this, raisins, yoghurt, pumpkin spice mix and cinnamon to the muesli.

Stir well and serve.
4. Almond and Oats Bircher-
(Serves 1)
Ingredients-
Method-
Soak the oats overnight in a little bit of almond milk. Mix the oats the next morning with the grated apple, fresh fruits and sliced almonds. Top with yogurt.
5. Classic Multigrain Muesli Bircher-
(Serves 1)
Ingredients-
Method-
Soak the lean muesli overnight in water. Add the sweetened condensed milk to the aots the next morning. Mix the grated apple and hazelnuts/almonds into the bircher.