Super Quick Vegan Cookie Crumble Desserts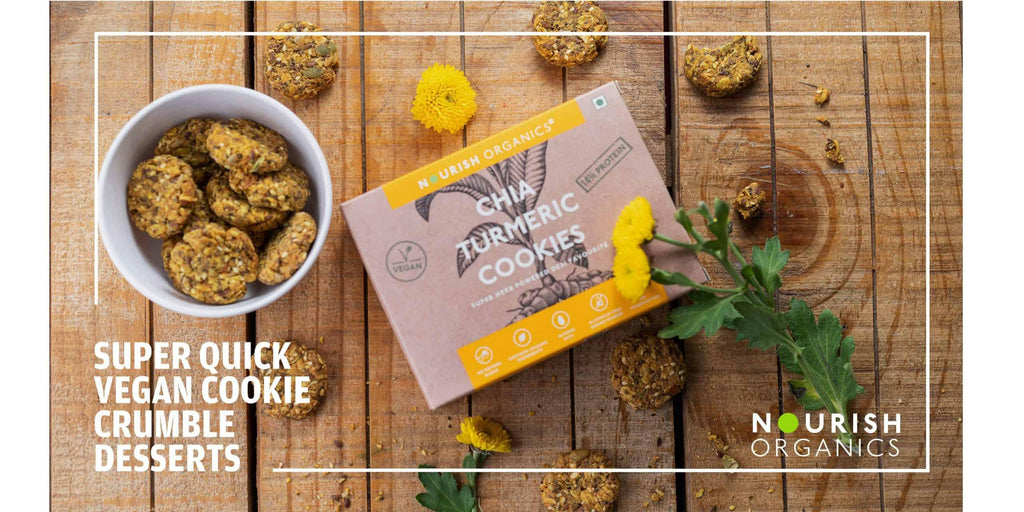 A post lunch dessert, a perfect snack for your ride to work or a classic accompaniment with your masala chai - A cookie doesn't need an occasion now, does it! For some of us who've decided to go back to our ancestral roots of being plant-based and vegan, we've got just the right kind of
cookie desserts
to make your summer oh-so-delish!
Vanilla Mango Ginger Cookie Crumble:
The kids will love it and so will you! Grab a box of our vegan ginger cookies. Crush the cookies in an uneven consistency, so you have some chunks left in there. Get yourself a tub of some yummy vegan vanilla ice-cream. We recommend White Cub, a brand that's been making the rounds with its coconut cream and soy based vanilla ice-cream. (Insert Big Basket Link)And now for the fun part, sprinkle the cookie chunks on your ice-cream, top with some mangoes and enjoy this summer-time bowl of goodness! Vanilla-mango-crumble with some netflix and good company, spells like summer to me! 
Chia Turmeric Custard Crumble:
For a brunch with friends on a dull summer day, here is just the recipe you need! Get your hands on some delicious
rose water infused vegan custard
with this recipe  and let it chill nice and firm. In the meantime, crush some of our
chia turmeric cookies
to a fine crumble like consistency and mix some sunflower seeds and almond meal (powdered almonds) with it. In a wine glass, add the crumble mix and pour the chilled custard on top. This Custard Crumble with a glass of sparkly pink lemonade, makes for a perfect summer brunch dessert.