The summer love story- Mangoes and 'I'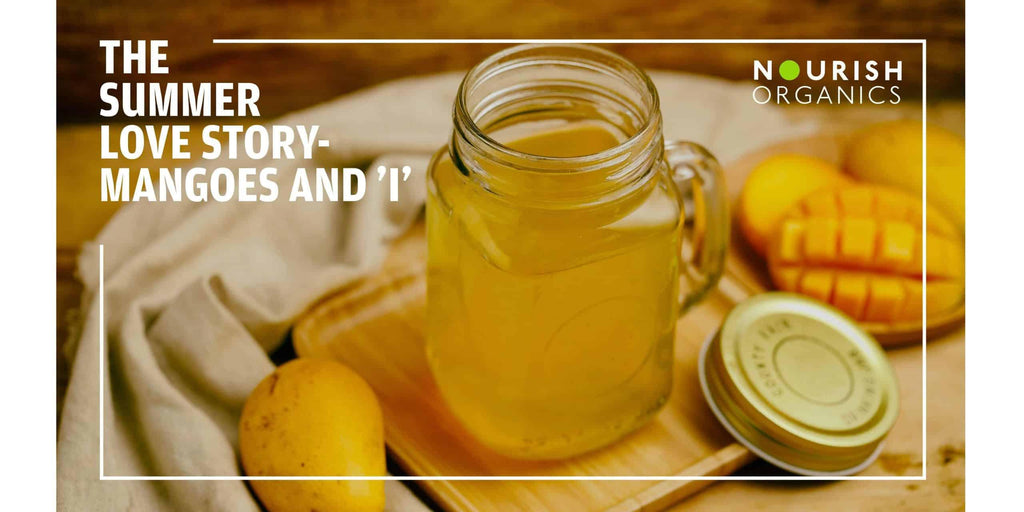 What's the best thing about summers you ask?
Let's have you guess.
"King of fruits, they are so called,
Yellow and sweet, loved by all,
Have 'em ripe or savour 'em raw,
A summer love story that makes you go aww !"
Guessing that wouldn't have been hard. A fruit that induces such happiness and health especially in these dreary months. Here's an ode to every household's summer favorite - the Indian Mango.
Mango, a quintessential summer staple has a multitude of health benefits to offer. From being rich in fibre to being a great cure for high blood pressure, these wholesome fruits are favourites for a reason!
For decades, mangoes have been used to soothe the stomach. Similar to papayas, they contain certain enzymes with stomach comforting properties. They are rich in fiber, so if you have at least one mango every day, you may alleviate constipation, piles, and symptoms of irritable bowel syndrome, a common lifestyle difficulty faced by many leading the sedentary urban lifestyle.
Many studies suggest that mangoes have an impressive vitamin content that contributes to overall health. They are rich in potassium and magnesium and are a great remedy for high blood pressure. These vitamin powerhouses are rich in B-vitamins, vitamin A, vitamin C, vitamin E, and vitamin K that help you avoid a host of diseases that can come from deficiencies of these micronutrients. Powerful antioxidants in mangoes can help prevent heart diseases, premature aging, cancer, and many other degenerative diseases.
When it comes to brain health, mangoes have you covered! They have abundant quantities of vitamins, such as C, B6, and folate, which are a few nutrients vital for maintaining and improving the brain's function. With mangoes as a part of your diet, you can be assured of a healthy brain and effective nerve functioning. The glutamine acid content in mangoes also improves concentration and memory.
What more to ask for in a fruit than maintenance of physical and mental well being whilst also tasting like a sweet slice of heaven! Green, yellow, orange, ripe or raw, have them as you like, when you like and feel the gush of health and happiness within. And for those of you who want to add a twist in savouring this traditional fruit, we'd love for you to check out our blog on Super Quick Vegan Cookie Crumble Dessert and try out some a gobsmackingly healthy mango recipes!
Now, say buh-bye to guilt while gorging on some juicy, pulpy mangoes, reminiscing days of childhood visits to grandma's or while simply escaping the dull summer heat. Great for the heart, body and brain, here's to one of the most beautiful and soul-enriching fruity experiences we call Mang-aw!