5 KEY FOODS FOR A HEALTHY GUT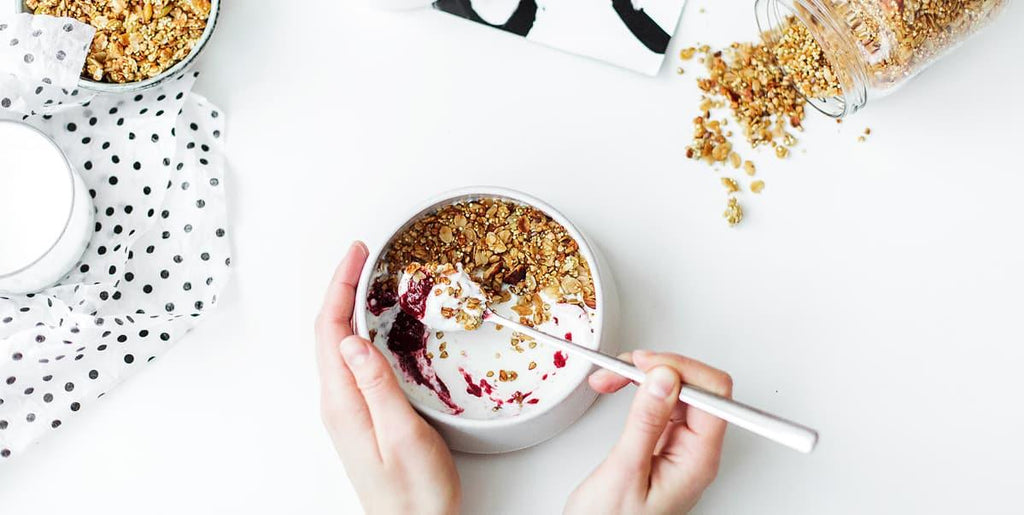 Go with your gut, they say. 
…but what exactly is the gut? 
Effectively, the gut is the gastrointestinal system. There are around 40 trillion bacteria in the body, most of which are in the intestines. Collectively, bacteria in the intestines are called gut microbiota, and they play a huge role in maintaining the immune system, regulating digestion, and making sure the body stays Nourished! 
Here are 5 foods to include in your diet for a clean and healthy gut: 
1. Greek Yogurt: 
Tasty, filling, and full of natural gut-friendly probiotics, eating yogurt regularly strengthens the digestive tract and has also been linked to a lower risk of certain diseases like type 2 diabetes. Top up a yogurt bowl with our Seeds + Nuts Muesli and your favourite berries! 
2. Cucumber Pickles: 
Brined and fermented in salt water, cucumber pickles have beneficial gut-friendly bacteria along with healthy doses of vitamins A and K, important for blood & cell health. Add some to your salad along with our Omega Seed Mix! 
3. Kombucha: 
Everyone's favourite summer drink also packs a whole host of benefits! Available in several flavors, this fermented and carbonated tea contains thousands of probiotics and antioxidants that support the immune system and help clean the gut. Snack on our Onion Poha alongside your favourite booch! 
4. Almonds: 
High in fibre, fatty acids, antioxidants, AND probiotics, a superfood you can truly go nuts for. Snack on our Roasted Almond Cranberry On-The-Go Power Mix by the handful!
5. Ginger: 
Fresh ginger can aid in the production of stomach acid, aiding digestion and promoting gut health. Add some to your afternoon lemonade, and sip on it alongside our Ginger Oats Cookies!