5 Benefits of Muesli | That Are Must For A Healthy Diet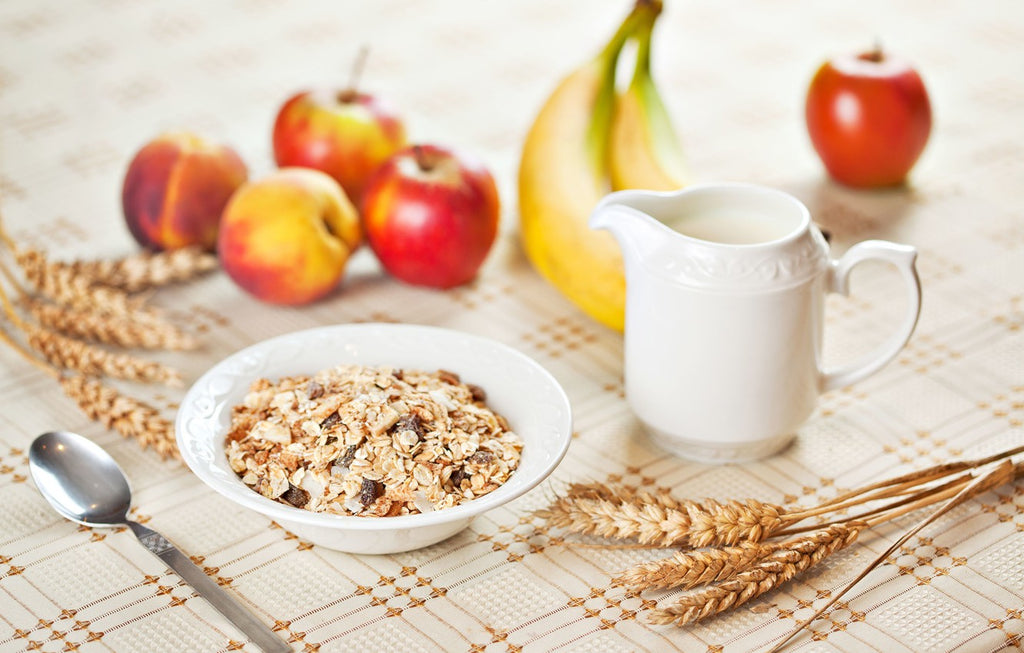 Versatile, nutritious, easy to eat, and absolutely delicious; the innumerable benefits of muesli make it a breakfast staple world-over. Eat it in a bowl of your favorite milk with fruits on top, bake it into desserts, make a yogurt bowl with it, or just munch on it as it is because muesli makes for one of the most nutritious foods out there.
So, what exactly is muesli?
Muesli is a wholesome combination of rolled oats, grains, nuts, and seeds. Created by a Swiss physician more than a century ago, muesli wasn't always intended as a breakfast food, but as an appetizer for patients that needed to eat a balanced diet.
Over time, with its popularity growing across the world, a muesli breakfast has come to be known as one of the most nourishing ways to start the day.
Muesli vs. oatmeal
Muesli and oatmeal are both made from whole grains. Oatmeal is made from oats and needs to be cooked further. Muesli is made up of whole grains that include rolled oats, wheat flakes, bran, corn flakes, and more. Muesli also included ingredients like seeds and nuts, while oatmeal does not. Oats by themselves are very rich in key nutrients, protein, and fibre. However, muesli has higher protein and nutrient content owing to the added ingredients in it.
Muesli vs. granola
Muesli is often confused with granola, but while shopping for breakfast food, it's important to remember that muesli and granola are not the same. Granola is baked with various sugars, oils, and flavourings that enhance its flavour but make it unhealthier for the body. In comparison, muesli is not baked with oils or sugar, has no or very little added flavour, and instead relies on its ingredients (seeds, nuts, dried fruits) for its taste. Its nutrients, minimally processed nature, and numerous health benefits are what make muesli a great option for weight loss, diabetes diets, and pregnancy diets.
5 Benefits of Muesli that make it ideal to include in a balanced diet
Good for diabetics
Muesli's low-sugar content makes it ideal for diabetics, with its high fibre content helping in keeping the stomach full for longer. Muesli also contains essential minerals and nutrients like iron, magnesium, phosphorus, and calcium that help in controlling blood sugar levels. Beta-glucan, a soluble fibre that helps in drastically lowering blood sugar levels, is present in high quantities in muesli, making it an extremely healthy breakfast option for type 2 diabetics.
Aids with weight loss
Low in saturated fat and added sugars, and high in plant-fibre and nutrients, muesli aids digestion and helps regulate gut health. It also keeps the stomach full for longer, helping with cravings and mid-meal munchies. A muesli breakfast with yogurt or nut milk, topped with whole nuts and fruits, can be the best way to keep you feeling full and energized throughout the day. The key to eating muesli to aid in weight loss is to eat it in moderation and make sure that the muesli you eat has no or very little added sugar.
Provides Nourishment throughout the day
Starting your morning with a muesli breakfast means that your body gets a boost of natural fibre and essential micronutrients to keep you energized throughout the day! Loaded with carbohydrates and plant fibre, eating muesli for breakfast supplies your body with the essential nutrients it needs to stay energized and keep running smoothly.
Great for pregnancy
A balanced, nutritious diet rich in fibre and plant protein is essential for a healthy pregnancy. Muesli checks all the boxes, making it a great breakfast or midday snack for pregnant women. Often, pregnant women need more minerals and vitamins like iron, magnesium, and calcium. Eating muesli is a great way to naturally add more essential micronutrients and macronutrients to your diet while pregnant.
Helps improve the overall health
The beta-glucan content in muesli that helps control sugar levels also helps lower cholesterol levels, improving heart health drastically over time. The plant fibre present in muesli aids digestion and regulates the gut, keeping your digestive tract healthy. The grains, seeds, and nuts present in muesli can also help improve brain function, aid with concentration, provide energy to your body, and help reduce inflammation. Nutty mueslis are great sources of essential omega-3 fatty acids, which help in reducing the bad cholesterol in your body.
These 5 benefits of muesli prove that it's an overachiever when it comes to eating a balanced diet and helping you improve your fitness levels, but what makes it a clear winner is the level of customization it offers. Every muesli can be further elevated with your choice of toppings like fresh fruits, milk, yogurt, dark chocolate, whole nuts, seeds, nut butter, or sweeteners like dates & jaggery. This means that the nutritional value of your bowl of muesli depends entirely on your preferences, but most mueslis are rich in vitamins, protein, fibre, minerals, and antioxidants. Strike the balance your body needs and find a muesli that meets your daily needs; the ideal muesli for you should be a blend of micro and macro nutrients that help you stay nourished round-the-clock.
Pick your favourite from Nourish Organics' Honey Crunch Muesli, Multigrain Muesli, Seeds + Nuts Muesli, and Amaranth Muesli for power-packed wholesome goodness to keep you going all day long! Silly for our muesli? DM us (Instagram@nourish.organics) your favourite recipes using your Nourish Organics muesli and we'd love to feature you on our page!